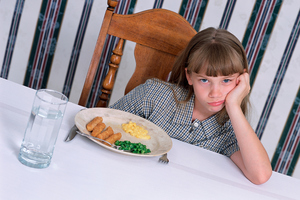 One-third of schoolchildren in France - reputedly the land of the refined palate - are unable to identify a courgette or a leek, with some even believing pasta grows on trees, according to a new study.
Months after the French gastronomic meal was inscribed into Unesco's list of world treasures, the survey found that a large percentage of French children aged between 8 and 12 "no longer have any idea what they are eating".
Some 87 per cent were totally stumped when shown a beetroot, while 31 per cent were lost for words when introduced to an artichoke and a fig. One in five were unable to name an apricot.
Alarmed by rising child obesity - one in five minors in France is overweight - France's public health body, Asef, decided to order the study on eating habits of the young.
Patrice Halimi, a nutritionist and Asef's secretary general, said the children's surprising level of ignorance was "because they no longer know what they are eating and have lost the sense of the reality of food products due to all the frozen food they consume".
"When we ask mothers what they prepare for dinner, one in two says she sticks a ready-made meal in the microwave," she told Le Parisien newspaper, which published the results of the study.
Some of the more surprising responses came from children convinced that fish fingers were made of chicken and ham was horsemeat. As for pasta, some 72 per cent had no idea what it was made of, while some though it was a vegetable or "grows on trees". A quarter admitted drinking mainly squash, fruit juice or fizzy drinks with meals.
Asef has published a free "little gourmet's guide" to encourage parents to prepare home-made meals.
"When children think there are no bones in fish, one can only conclude they don't really know what they're eating and it is urgent to get back to the fundamentals," said Halimi.