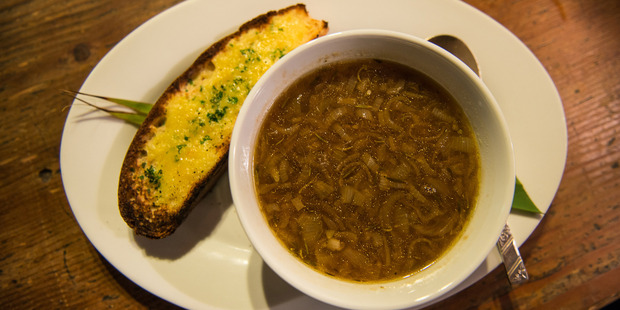 At Moeraki we visited Fleur Sullivan at her restaurant Fleur's Place, sat at the bar and had a bowl of her French Onion soup. It was the perfect match for Fleur's own warmth and hospitality. Find out more about this gem of a spot at fleursplace.com.
French Onion soup traditionally combines soup and cheese on toast in one bowl. A good , stringy, melting cheese, such as gruyere, is grilled on a piece of bread. This is placed at the bottom of the soup bowl and the onion soup ladled over it. It's a very nourishing soup because it's based on a beautifully made rich beef stock. I think you need to make the stock yourself to get the right result. Find a classic beef stock recipe and give it a go. It will take at least a day and the result with depend on your patience and the ingredients you start with. I like to use shin on the bone as the meat base.


1. Once you have the stock, start to gently cook off lots of finely sliced onions in butter and oil. Again patience is required. You are not frying, you are slowly caramelising the onions, melting them gently over a very low heat, stirring often to prevent them catching. One hint of blacked, burned onion will taint the whole soup so be watchful.
2. Add a bay leaf and cover with the beef stock. Simmer all this for as long as possible. It's a labour of love.