Winter's on its way so Grant Allen snuggles up with some cheese faves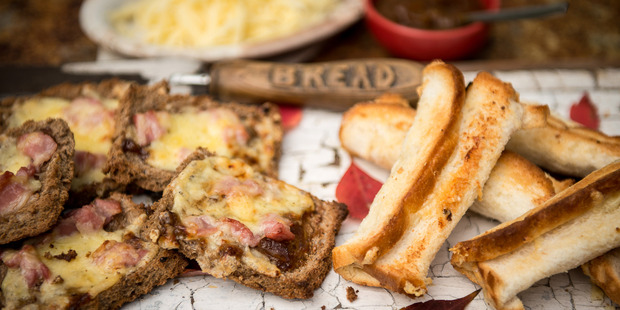 Grilled cheese is a welcome warmer as temperatures drop. What could be better on a Sunday night than curling up in front of the fire with a toasted cheese and chutney sandwich, or bowl of French onion soup gooey with gruyere?
I visited the south of the South Island recently, an area as famous for its cheese rolls as for the way locals roll their "r"s. When I came across Sue Harvey selling Southern Cheese Rolls from her caravan in Oamaru's historic precinct on market day, it seemed only right to cajole her into giving me her recipe. Sue has taken the roll to new heights by using local
Whitestone's Totara Tasty and even offers a garlic butter option.
We reminisced about warming up from a cold walk home from school, she had a cheese roll and a bowl of soup and I had Mouse Traps around the fire. I rang my mother June for her Mouse Trap recipe.


Sue's Southern Cheese Rolls
You must use white sandwich bread with the crusts on.
1. Spread mayonnaise on each slice, then sprinkle with a little powdered onion soup mix.
2. Top this with grated tasty cheese and roll the bread tightly. Give it a bit of a push down so it holds together.
3. Grill in a sandwich press or place on a baking sheet and bake in a medium oven until toasty.
You could brush the roll with a little melted butter to help the browning. Check out the market at oamarufarmersmarket.co.nz


June's Mousetraps
These are great on their own or with a bowl of soup.
1. Set the oven to a medium heat.
2. Choose a light grainy bread. Lay slices over an oven tray and toast in the over on one side only.
3. Turn the bread over and butter the untoasted side. Lightly spread with chutney of your choice.
4. Snip some bacon pieces and dot these across the chutney.
5. Cover well with grated tasty cheese and put back in the oven. Cook until the cheese is well melted and browning.


More Recipes
• Canterbury cheese mongers' toasted cheese sandwich
• French onion soup
• Cheese straws