Joanna Mathers finds the cosiest spots to eat and drink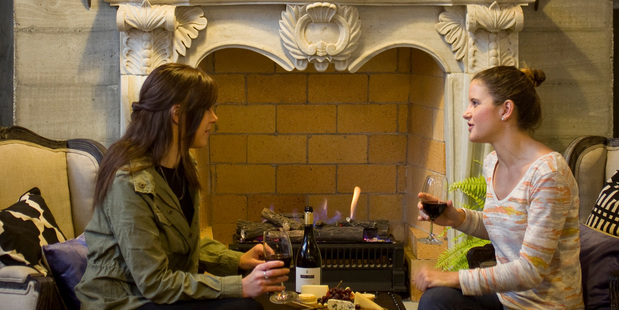 Competitive sport is a popular pastime in Kingsland. And no wonder, given the inner-city Auckland suburb is home to the emerald rugby cathedral of Eden Park. But there's another kind of competitive sport that Kingslanders like to partake in; one which doesn't involve rucks, mauls and oval balls. It's a sport that involves brains instead of brawn, along with a great sense of timing, the ability to think laterally, and a "take no prisoners" attitude.
I'm referring to the battle for fireside seats at the Neighbourhood bar.
As a Kingslander, I've engaged in this battle many times. Sadly, I don't often win. I'm not very competitive. And many of the after-work imbibers who claim those coveted spots know a thing or two about competition - many of them look like they're rugby players themselves. So I inevitably sit two or three booths back from the fire and look for an opening. A neglected glass, a phone call taken standing up - you get to spot the signs when you play the game long enough. The minute I spot a vacancy by the fire, I make a run for it.
I usually miss out, but if I'm successful I don't budge until I'm ready to leave for the night... and make the boyfriend get the drinks.
This battle of wits isn't just limited to Kingsland, however. There are sought-after fireside spots in many of Auckland's popular restaurants and bars. So if you're keen to snuggle up near a fire while nursing a wine or two and snacking on tasty treats, here's the lowdown of where to go, plus tips for the best fireside food and drink combos from each eatery.


Three Lamps Bar and Eatery
1 St Mary's Rd, Ponsonby, open seven days 11am to late
Formerly The Ponsonby, the old post office on the corner of St Mary's Rd and College Hill has reinvented itself. This place has two fires; one in the dining room and the main fireplace in the courtyard out the back. It also has a range of other winter warmers.
"We've just introduced baskets outside with blankets and hot water bottles," says Claire Warin from Three Lamps Bar. "People can ask to get the hot water bottles filled at the bar."
The outdoor fireplace is a large, white, Italianate number, decorated with large, white candles. The space above the courtyard is strewn with fairy lights. "I think of it as a fairy grotto," says Claire.
Couches form a horseshoe around the open fire, and there's a table in the centre which can hold the sharing platters the bar now specialises in. These include a herbivore platter for vegetarians and a locavore platter made from only locally sourced ingredients. "Our new menu is all about sharing food," says Claire. "And sharing is even more convivial when you're next to an open fire."
Fireside favourite
To drink: Young's Double Chocolate Stout -a rich chocolate beer brewed in England.
To eat: Bread and butter pudding.
Toru
Shop 3 in Ponsonby Central, corner of Richmond Rd and Ponsonby Rd. New opening hours to be announced soon
Ponsonby Central has fast become one of the hottest spots on Auckland's hottest street. One of the precinct's best used eateries is Toru, located in the wooden-floored, airy atrium to the left of the Ponsonby Rd entrance. Toru is situated next to Ponsonby Central's only fireplace (more are planned over the winter months), which is soon to play more of a starring role in the space. "We will soon be open in the evenings," says manager Brad Bell. "We are working with a designer to make the space more loungy. Seats will face the fire, so people can enjoy the warmth while they are eating and drinking."
The fireplace at Toru was sourced by Ponsonby Central developer and owner Andy Davies.
"Andy is different from other developers as he does all the design," says Ponsonby Central coordinator Leah La Hood. "He worked out where the fireplace was going to go and sourced it."
With neoclassical lines and wrought iron white candlesticks adorning the mantelpiece, the fireplace adds an air of opulence to this pared down space. Brad hopes that the new layout and the addition of the more comfortable, relaxed seating areas will get people flocking over the winter months. "It will have a different feel once the couches are in and we are open for dinner," he says.
Fireside favourite
To drink: Papa Luna, a Spanish grenache/shiraz blend with (according to Brad) "beautiful lush, soft tanins".
To eat: Blue cheese and bread - these will be added to the evening menu for winter.
La Zeppa
33 Drake St, Freemans Bay, open Monday to Thursday 4pm-late, Friday to Sunday 1pm-late
The large fireplace at La Zeppa has brought drinkers and diners in from the cold since the bar opened in 2005. Co-owner Sam Ansley says the "quartered fireplace" (so named for the square shape that allows diners on all four sides to enjoy the heat) is a big selling point when the weather is colder. "The space, with its brick walls and high ceilings, needed a key focal point. The fireplace works well in that capacity."
Sam says La Zeppa was developed as a winter eating spot. And while the rooftop terrace now gives the bar year-round appeal, the fireplace and flickering candles of the dark inside space still create a great winter ambience. "The fireplace is as popular as ever. It's a gathering point and gives the space a soft, welcoming atmosphere."
La Zeppa is known for its cocktails and tasty tapas, and features a line-up of DJs every weekend. It's a large "New York loft" style space that can cater for very large groups. So it's a nice spot to celebrate a winter birthday or have other celebrations in fireside comfort.
Fireside favourite
To drink: Croft Fine Ruby Port
To eat: Warm cinnamon doughnuts, hot chocolate Frangelico fondue and whipped cream
Neighbourhood Macs Brewbar
498 New North Rd, Kingsland, open seven days
As mentioned earlier, spaces near Neighbourhood's fireplaces are at a premium when the weather is cool. They bookend the courtyard of this popular suburban eatery and throw out some pretty intense heat so you don't need to be sitting right next to them to feel the warmth. Neighbourhood is buzzing nearly every night, especially just after work later in the week, so you need to get in early if you want to secure a spot.
Be aware, however, that the courtyard isn't waterproof, so there's no protection from the elements on stormy nights. But you can always tuck yourself away inside by the stage, where a large fireplace warms those being entertained in winter. And if you manage to get a seat by the huge window at the rear of the bar on game night, you can watch the crowds at Eden Park as they cheer their favourite team to victory.
Fireside favourite
To drink: Fromm La Strada pinot noir.
To eat: Cheese platter with artisan cheeses, fresh fruit, quince paste and toasted bread.
Galbraiths
2 Mt Eden Rd, open Sun-Mon noon-10pm, Tues-Sat noon-11pm
One of Auckland's first "gastropubs", Galbraiths opened in 1995. It was also the first outfit to make cask-conditioned British-style ale in New Zealand for more than half a century. It still produces the ale on site. The expansive pub is set over two levels and has indoor and outdoor spaces. But the table by the raging fire in the main area of the bar to the right when you enter is the most popular spot to sit when the weather is cold.
Outside in the "beer garden" is a large wood burner. This area is covered so can be used even when the weather is bad. Galbraiths is housed inside a building that used to be the Grafton branch of the Auckland Library. It's a popular spot for music lovers, as it is located over the road from live music venue the Powerstation. Its wide range of beers and English pub atmosphere have also earned it a big following in the expat community.
Fireside favourites
To drink: The pitch black Grafton Porter, which is made on site.
To eat: Apple, rhubarb and ginger crumble.