Ice skating is a way of life for the owners of Auckland rinks, finds Dionne Christian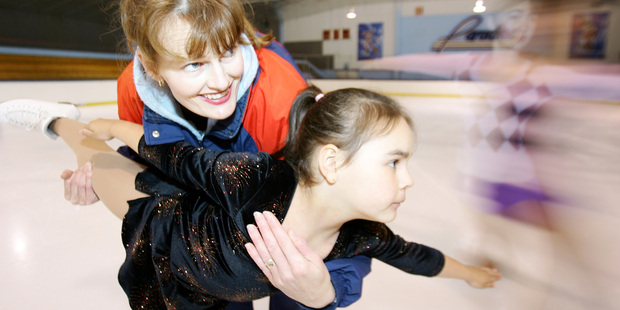 Life was never the same for the Blong children - Chris, Darren and Rosie - after their dad, Ross, and mum, Nell, announced they had bought an ice skating rink and were moving the family to Auckland.
It was 1974 and from then on, ice sports dominated the lives of the three children and set them on life-long career paths. Today Chris, who represented New Zealand at international and world ice figure skating championships and played with the Ice Blacks at World Ice Hockey Championships, manages the Paradice ice skating arenas in Avondale and Botany Downs. Rosie, now Rosie Armstrong, is the Paradice Skate School director and Darren is a former captain of the Ice Blacks.
"There's nothing quite like skating," says Rosie, a five-time New Zealand senior ladies figure skating champion, who was once nominated for the Winter Olympics.
"When you're gliding on the ice, you feel so free. I think it must be the closest thing to flying without leaving the ground."
Chantelle Williams, 9, Jessie Liu, 13, Courtney Wertheim, 10, Alice Lee, 11, Siri Brueckmann, 10 and Nathan Hunt, 9, wholeheartedly agree. The young skaters are regulars at Paradice Botany and say they love ice skating because it teaches them to be confident, to challenge themselves by trying new tricks and manoeuvres and they make new friends.
Even the very young can see if skating is for them: classes start with the Ice Tots (aged 3 to 5).
In the half-hour classes the littlies improve balance, co-ordination and confidence on the ice. They get to practice and play for half an hour after each weekly lesson.
Chantelle was just 4 years old when she started skating, saying she needed an outlet for her boundless energy: "And I like being cold, so ice skating is perfect for me!"
Once kids turn 5, they are taught under the National Skate School Kiwi Skate programme. Children try various ice sports such as figure skating, ice hockey and speed skating at either a recreational or competitive level.
"At first, you might fall over because you're not used to having to balance on skates but you just have to get back up and keep trying because you get used to it," says Jessie.
Alice cautions that it feels as if you're travelling very fast but you're actually going quite slow.
Don't decide you're too old to take up skating because Paradice runs adult classes, too. As Jessie, who started skating just last year, says you're never too old to learn something new.
Nathan hopes to improve his skating skills so he can start playing ice hockey.
The Auckland Ice Hockey Association (AIHA) uses the Avondale and Botany rinks for learn-to-play classes, which are held weekly to teach the finer points of skating, stick handling, passing and shooting goals.
Each session combines skills training with basic games. Unlike the adult leagues, body contact doesn't occur and players must wear full protective gear including helmets and body pads.
This year, the AIHA has introduced a beginners' league with a 3-on-3 format played at weekends.
The New Zealand Ice Hockey League is the elite competition, featuring five teams nationwide that feed into national ice hockey team the Ice Blacks, who this year won a silver medal at the IHF Division IIB championships in Turkey.
The New Zealand women's ice hockey team, the Ice Fernz, recently made history by beating Australia at the IIHF Ice Hockey Women's World Championships Division II Group A.
With the onset of winter, and Disney on Ice's travelling ice skating spectacular Princesses & Heroes arriving, the rinks are likely to get busier as more youngsters think about giving skating a go.
"We always get a few calls after kids have been to an ice show," says Rosie. "It does pique their interest."


All about ice
• For more information on ice skating classes, session days and times plus prices, go to paradice.co.nz and for more about ice hockey (Wednesdays at Avondale and Thursdays at Botany) go to aiha.co.nz
• Disney on Ice's Princesses & Heroes show is at Vector Arena, June 1-3. Tickets start from $28.50 (ticketmaster.co.nz or ph 09 970 9700).