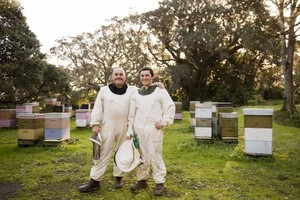 A risky move to combine a hobby with a philosophy and turn it into a livelihood has paid off for the makers of Earthbound Honey
Making a business out of bee keeping was a long-held dream for Terry and Karlene Shaw-Toomey, and by their own measure their dream has come true.
What started as a hobby with a couple of beehives on their Te Henga property is now a full time family business making organic honey.
"Terry had an accident a few years ago and it really changed our lives," says Karlene. "It was time to really look at how we were living and have a better quality of life, so we decided to make honey."Terry left his full time work as a media production director in 2006 to set up Earthbound Honey while Karlene kept working as a landscape gardener. "About a year and a half ago I stopped doing landscaping to help with the business," she says. "In our first season we collected one bucket of honey which we just gave to friends. Last season we collected several tonnes."
In five years the business has grown enough to justify building a commercial kitchen and bottling facilities on their property, and there are around 300 hives dotted throughout the Te Henga valley which stretches down to Bethells Beach.
Their honey comes in three varieties - manuka, pohutukawa and bush - and they also produce cider vinegars with honey, and sell organic beeswax. Their business philosophy has become a whole lifestyle, with the family going back to basics as they raise their three teenage boys.
"We grow our own veges and we have a bit of a bartering system with other producers at the farmers' markets we go to, so we swap honey for the things we might be short on. "We do things from scratch now like making our own pasta sauce rather than buying it, and we keep some sheep and cows as well."
Earthbound Honey hopes to be organically certified within the next year. For Terry, the business and lifestyle is very much quality over quantity. "We decided to just take a step back and spend more time with our family and for us it's been win-win. "We've developed a system of producing that works for us and we're trying to live by the same philosophy of our business, because we think those values are important.We don't believe in using pesticides or anything like that, and we do everything by hand from the collecting to the bottling," says Karlene.
KEEPING IT SIMPLE
The process to prepare the honey is kept as simple as possible, without any complicated processing that could ruin it's organic qualities. It is initially collected up in drums, then broken down with an augmenter into smaller pieces, and put into a spinner to separate the beeswax from the honey. From there it gets heated and bottled by hand into glass jars.??"We didn't want to add to the waste so we picked glass over plastic. It is more expensive but they can be reused."
For more information visit http://www.earthboundhoney.co.nz