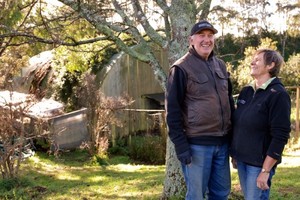 A breakfast meeting with an accountant, a lawyer and a financial advisor, accompanied by various marketing people, doesn't usually involve home-made bread, free-range eggs cooked in an outdoor oven and layers of fleece and woolly hats instead of business suits.
But the team from Cathedral Cove Macadamias like to do things a little differently. This kind of conviviality is at the very heart of their business, and their lifestyle.
Aucklanders Brian and Sue Pilkington started looking in the Coromandel direction more than 30 years ago, and came across a disused farm a stone's throw from Cathedral Cove. The couple fell in love with its 16 acres of park-like surroundings and the potential of its 20-year-old orchard of 1000 macadamia trees.
Says Brian: "We came from professional careers and a lot of people literally thought we were nuts. They started telling us all the things we needed to do with shelterbelt and such like and it was information overload. At that point we wondered if we had bitten off more than we could chew."
In the early days the farm remained a weekend pursuit, but as two days a week stretched to three and more, the couple started putting their business dream team together from their connections back in the city. Brian's background as an accountant meant he could do the numbers and Sue put her experience as a former home economics teacher to good use creating recipes for delicious Macadamia dukkas and sprinkles.
Meanwhile, the couple's two sons returned from their OEs. After slogging it out in Europe the idea of a family firm in a kiwi beauty spot was pretty attractive. Handily, Hamish has a degree in marketing and Justin relishes the face-to-face challenge of selling at markets, fairs and the like.
"The resources we don't have in-house, we marry!" jokes Brian. Justin's wife Andrea has assisted with the creation of the company's website and Hamish's wife Harriet comes with her own business pedigree as the daughter of Auckland-based marketing specialist Brian Richards.
The family jovially refers to the couple's daughter Tania as the last one of them with a "proper job". After 10 years, the results have been seeing the company grow from times when the family did every job with their own hands, to the point where their product has found its way to Harrods and they are considering expanding their little empire by starting an allied seafood business.
At the same time they have gone from relative outsiders to an integral part of the local community.
Sue says: "The locals were quite stand-offish at first, but that really changed when we started going to the fairs and markets."
SLOW FOOD
The guiding principle throughout has been the concept of 'slow food', which describes itself as a global, grassroots organisation linking the pleasure of good food with a commitment to community and the environment.
This approach has also engendered a keen awareness of sustainability and the environment, an ongoing drive which has been recognised with certification from Organic Farm NZ.
Brian says: "The whole thing sort of evolved. We have always had a passion for food and we have followed that right back to the growing of it."
By Andy Kenworthy