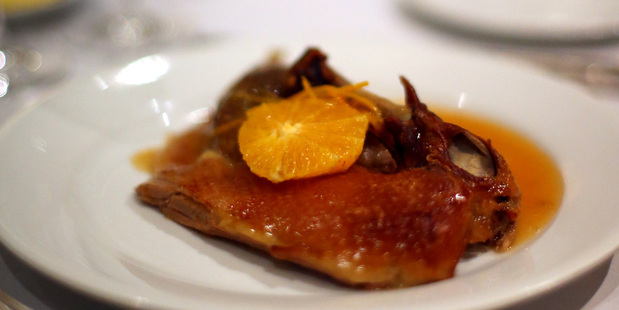 Silver service? Who the hell does silver service these days? I doubt that one waitress in 100 would know what it is.
Well, if you must know, Antoine's does silver service. Always has.
Your dinner doesn't get plonked in front of you but is slowly, tantalisingly, transferred from dish to plate (both of which are bloody hot). It's part of the sense of theatre that has made Antoine's the perennial place for special-occasion dining for 40 years.
People grumble that the $30 entrees and $45 mains are too pricey, particularly when the prices are GST-exclusive. (Owner and chef Tony Astle may be obliged to collect the tax, but he intends to make it very clear that it's not his idea.) But I make the following observations about prices (which, not incidentally, haven't risen since I last ate there in 2007).
First, there's none of this faffing about with extra charges for side dishes. Like the cook at a railway cafeteria, Astle reckons dinner includes veges: the night we were there, we were served a creamy potato gratin and big stalks of broccoli (which were, bless him, cooked to al dente perfection rather than crunchy in the virtuous modern style).
More important, Astle takes it that if you've come for dinner, you feel like eating. Those entrees are not photogenic origami assemblages that offer vague hints, like reports from abroad, of the constituent ingredients. They are dishes of food, designed to be admired briefly and then eaten with relish. Our entrees would quite easily have satisfied a lunchtime appetite or made for a stellar light dinner.
The restaurant, which is set in three rooms of an old unrefurbished villa, was full that night with parents marking their kids' graduations, but it never seemed busy. Soft music and the quiet murmur of conversation created a warm and relaxed vibe.
To place our order we first had to understand the waiter, whose French accent, as thick as clotted cream, was so outrageous that I thought at first he was taking the piss. He pronounced "asparagus" as though it were "Asperger's" and he had a habit of addressing the Professor as "ladies". But there was no faulting his skill or his unobtrusive attentiveness.
I was keen to devote myself to the Nostalgia Menu, a lovely Antoine's tradition that tips a hat to its early days (think seafood chowder and ox tongue in Madeira sauce).
So I decided to break with the habit of a lifetime and order up the tripe.
This has always been the only food that I will not touch, which derives from the childhood trauma of being forced to eat my mother's version, in which the meat was the consistency of a hot-water bottle and the slithering sensation as it went down induced an instant gag reflex.
It would be going too far to say that Astle's version (cream, sherry and green peppercorns) has turned me into a devotee, but it was mighty fine: a hearty, soupy feast that made me wish I had saved some of the house-baked bread roll.
The Professor, following my advice to choose from the French classic dishes that are Astle's specialty, went for the lamb's brains, sauteed in a crisp coating and served with excellent black pudding and snails in tempura batter, the whole thing atop a sort of leek compote. It was marvellous display of the restaurant's belief that you don't go out to dinner to lose weight; there are light choices on the main menu, but that's not what you come here for.
My main, that 70s classic that we called duck a l'orange, was two (yep, two) legs, roasted - thus firmer and less melting than the confit legs found everywhere - with a sauce of Grand Marnier, the orange-flavoured brandy liqueur. It was quite superb as was the Professor's choice from the specials list of braised beef cheeks. The waiter made smart and thoughtful wine choices for each dish - a Cotes du Rhone for the duck and a Matakana merlot for the beef.
Desserts - a chocolate souffle and bread and butter pudding - were wonderfully discharged (and almost criminally generous) and rounded off a fine meal. This is classic cuisine in the richest sense of both those words, occasion dining to be sure, but bloody good value for money.


Verdict: You get what you pay for.