Each week Rachel Grunwell tries a new sport to bring you the lowdown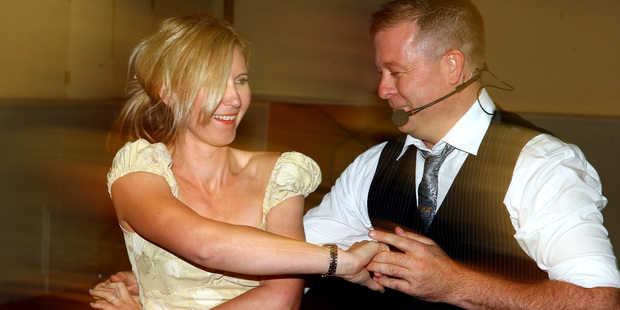 Lindy hop
What is it? The lindy hop, also known as the jitterbug, is an Afro-Euro-American swing partner dance that originated in Harlem in the 1930s.
What's needed? Non-restrictive clothes and comfy shoes, such as sneakers. Deodorant and mouth mints so you don't scare away dance partners.
The experience: Five years ago Simon Glasgow's dancing prowess was pretty much restricted to "clubbing". But when he and his partner, Natasya Yusoff, went to swing dance classes for date nights, Simon became hooked on this dance.
He even sought further lessons when he was in Australia regularly for work, which was more fun than sitting alone and bored in a hotel, he says.
Fast-forward to 2013. The two now have four national swing dance titles between them and Simon won a title in Kuala Lumpur in March.
They run their own swing and blues dance school, Swing Out Central, specialising in vintage dances from the 20s to the 40s.
So what is lindy hop? "It's a fun, joyful dance and you can't stop smiling while you're doing it," says Simon.
Natasya says it's quite a masculine dance; you don't feel awkward with dance partners and it doesn't attract creepy people because it's not that kind of dancing.
I join a dozen newbies at a beginner lindy hop lesson at the St Heliers Church and Community Centre. Ages range from 20s to 60s, and they've even taught an 82-year-old.
Swing Out Central's website boasts: "If you can walk in the door of our studio you are co-ordinated enough to learn lindy hop." I guess I'll test this theory.
We play "Simon says", as in Simon says how to do each move and then demonstrates this with Natasya, who also gives tips, and we copy them. Simon reminds us that it's okay if we struggle a bit initially; he struggled once too.
He also has a bit of a word to the gals about letting the guys lead, "for a change". So I brace myself for relinquishing my domineering ways, which does not come easily.
Natasya agrees, saying: "We are women in the modern world and we like to lead everything."
But I do as I'm asked, just this once, and just on the dance floor.
We constantly rotate partners, learn simple foot movements, practise, then learn the next sequence, and so on.
Meanwhile, the music transports us to the 20s and 40s when jazz and big bands ruled. There are sounds from Chick Webb, Glenn Miller, Fats Waller and Louis Armstrong.
I learn fancy footwork while one arm is intertwined dudes whose names I don't know. There are marching-type steps, kicks, slides, moves where we mirror one another and things called "rock steps", "kick steps" and "triple steps" where three steps are within two beats. I try not to be out-of-sync or kick anyone.
I'm a bit lost on a turn manoeuvre. But by the end of the lesson, I'm stoked that I can put the moves together. And when I do the dance with an experienced bloke I'm led along merrily, smiling. At the end there's coffee, homemade cake and chatter. I meet Mel, who's dressed the part with a pussy-bow blouse, high-waisted trousers and clipped-up hair; and Kerry who says, "I'm here tonight for my wife." What a sweet guy.
I also brought along my aunt Billie (who is a dancer) and she says it's good fun, it's just missing bunting for decoration and air-raid horns for added charm.
How much? First lesson free, $70 for a six-week block course, $60 concession rate.
Worth it? This is social, fun and well organised. Simon and Natasya even put lessons on YouTube so you can practise in your living room.
Try it: Swing Out Central holds classes in St Heliers, Ponsonby and Freemans Bay.
Rating: 9/10