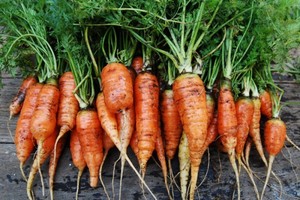 Plan for your winter harvest now.
As you harvest produce from your garden, and space starts to appear in beds and borders, it's a good time to think forward and sow for winter.
Slow growing roots like parsnips and Swedes, as well as the swifter carrots, beetroot and turnips can all be sown now so you'll have a supply of roots ready for hearty winter dishes later in the year.
Parsnips are slow to get started and can take several weeks to germinate so it helps if you sow a row of radishes next door to them to mark where the seeds are buried. You must use fresh seed when sowing parsnips to avoid poor germination.
For fresh seed go to: http://www.podgardening.co.nz/seeds.html
Harvesting honey
Beekeepers should be enjoying a delicious harvest of honey around now as hives fill up quickly with nectar from the abundance of summer blossom.
At this time of year female worker bees will daily visit around 2000 flowers in their short six week lifetime and each will produce a total of one twelfth of a teaspoon of honey before she dies.
As you spread you homegrown honey on your toast take a moment to appreciate the smaller things in life.
Gardners on the go:
- Keep pinching laterals out on tomatoes until they have five or six trusses of flowers then pinch out the tip of each plant.
- Feed tomatoes, eggplants, cucumbers, melons, pumpkins and squashes every week with liquid comfrey, seaweed, worm juice or manure.
- Water beds in the early morning or at dusk so that moisture stays in ground rather than evaporating.
- Rub aphids off plants by hand when, and if, they first appear to prevent any undue outbreaks.
For full-scale, seasonal edible gardening advice and inspiration see www.podgardening.co.nz or check out Pod Gardening on facebook.