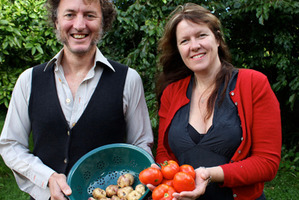 Andrew Drummond, sculptor, Woolston, Christchurch
"My garden takes up about 200 square metres of a large industrial site between Heathcote River and Woolston shunting yard in Christchurch. It's an old power station. I built it with the technicians who help me make my sculptures. The underlying soil is river silt but I actually grow my plants in soil that I have brought in over the past six years.
"My grandfather taught me about soil management and how to plant when I was a boy in Palmerston North. He was part of that generation in the 1950s when everyone had a garden - his were always big so I had to have a big garden too.
"I love the ease of my garden and all the produce it gives me. Its very practical - I only spend about 20 minutes a week actually gardening. I spend a lot of time sitting outside and looking at it. Evenings are my favourite time - it's still, calm and the light is beautiful.?"Spring and autumn are the best seasons - you get that rush of new growth at the start with the roses flowering and then later on there is all that produce.
"Rocket, carrots, all brassicas and greens are our reliable winter crops, in summer it's beans, salads, green onions and raspberries - with tomatoes and basil in the greenhouse. Anything tall struggles to grow here because of the wind.
"I value the ability to put my hands in the soil - ever since my childhood this has been calming and centering and it connects me to the planet.?" My gardening philosophy 'Feed, feed, feed, feed the soil - it feeds you'."
Chris Elliot, art director and Rachel Strong, jewellery maker, Grey Lynn, Auckland
"Our garden is on the edge of an old bowling green in Grey Lynn, Auckland. It is elevated and faces east. Including the olive, avocado and fruit trees it covers about 300 square metres.
"The garden gives us another dimension to our life in the city, it brings the country to town.
"We built our garden. Starting with clay, we sliced our way through it - adding compost, lime, blood and bone meal - and sweat.
"Tomatoes, beans, strawberries, citrus, grapes, raspberries and spuds all grow well here. We struggle to grow good carrots and eggplants.
"Our number one pest is snails. We used to pick off literally thousands. Leaves would be covered in handfuls. We'd be crushing them whilst our daughter was trying to save them. We'd pick off bucket loads and use bottles and bottles of beer in bowls to trap them.
"The best moments so far have been eating our first proper asparagus meal with fresh Jersey Benne potatoes that we grew ourselves.
Rachel: "We garden with each other. On average I spend and hour a week and Chris spends a bit less. I love nice full trugs of happy produce. My favourite time to garden is the cool of the morning.
"Anyone can have a small garden anywhere. You can grow beans in a pot on a balcony or roof. If you are flatting just throw some runner bean seeds along the bottom of the fence."
Chris: "My dad and his dad are my inspiration. Serious gardeners. Now 83, my dad is down to just two acres and yet he still can't help himself. He is taking out climbing roses and planting runner beans, removing decorative trees and replacing them with fruit trees.
"Early summer is the best time when the strawberries are in full swing, the tomatoes are getting bigger, the beans are starting to run up the poles, the raspberries are fat and there is an expectation of good things to come."
Simon Miller, arborist and broadcaster and Paula Coulthard, fashion and furniture designer Te Atatu Peninsula, Auckland.
'Our garden is in our back yard - it's sheltered and sunny and covers about 50 square metres. We designed and built it together. When we started out 11 years ago the soil was mostly clay but we got rid of that and filled the beds with compost.
"We spend about 4 hours per week in our garden. We garden together and alone depending on what else is going on.
"Beetroot, potatoes, raspberries, sorrel, parsley, mint and broad ??beans all grow well here but carrots and garlic don't do so well.
"We get aphids and the sooty mould they leave behind them. We spray them with a mixture of dishwashing liquid, vegetable oil and garlic. When it comes to pests eating our plants we are generally happy to share, but if anyone gets too greedy - they're toast!
"We love getting food from our garden and the nature that it brings into our lives - bird song, light and shade, stuff growing and earthy smells.
"We also like to socialise in our garden with fire, beer and people."
Simon: "Morning, lunchtime and evenings are all great times to be out in the garden - so basically whenever I am hungry or need to escape from work.
"We love spring for all its anticipation and autumn because it brings loads of food.?"My gardening advice is to plant more potatoes. In 2009 we grew an awesome crop of potatoes which we had with pheasant cooked in ginger beer for New Year's eve dinner on Great Barrier Island.
"We dig plenty of seaweed into our beds in winter and spring. I'd encourage you to do a lot of 'noodling' - which is being out in the garden, looking busy whilst busily relaxing and popping out the odd weed or two."
Paula: "My gardening advice is to give anything a try; let the garden do its thing."
With thanks to POD Gardening - visit podgardening.co.nz for information and videos on easy, edible gardening and more POD gardens.