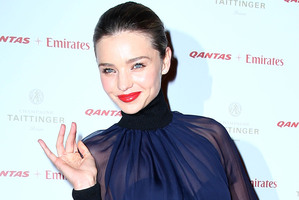 Miranda Kerr enjoys borrowing husband Orlando Bloom's clothes.
The Australian model wears the actor's garments because they make her think of him.
Known for effortlessly switching between high octane glamour and casual cool, she loves experimenting with her wardrobe.
"Sometimes I wear my husband's jacket or T-shirt. It feels good because it's his and it's fun to mix it up," Kerr told UK magazine Look.
Kerr, 30, says it's important to know what flatters your body shape and has revealed her style staples.
"A great pair of jeans or a cool blazer. I also like a high-waisted skirt" she said.
"I've always admired Audrey Hepburn's style and my grandmother has always been an icon to me. She can bring an amazing outfit together with accessories. I often wear her vintage dresses."
The frequent flyer has also shared the items she always packs for her regular travels between Australia and the US.
"I always have a LBD (Little Black Dress) and a great pair of heels. I keep different pieces, which are relevant to that place, in each city," she said.
- COVER MEDIA