The 5:2 fasting diet is the publishing sensation of the year and has catapulted former fashion editor Mimi Spencer to new realms of success. She explains the how and why to Richard Godwin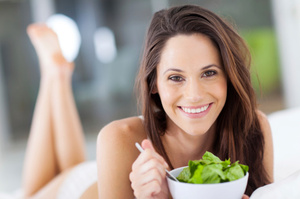 In March 2009 Mimi Spencer wrote a thoughtful article for the Observer under the headline The End of Thin. Taking her cue from Susie Orbach's Fat Is A Feminist Issue and Mad Men actress Christina Hendricks' bosom, she concluded that "size-zero mania" may have peaked. "Deprivation diets" seemed to be going out of fashion. Diet book sales were falling.
Since Spencer had spent most of her career investigating these issues, she saw this as good news - but one psychiatrist tempered her optimism. "There's a life cycle in the weight-loss industry," he warned. "I guarantee that within the next five years there will be a new 'miracle diet' product, another way to keep people purchasing. A new generation of girls will discover a culture that vilifies fat and worships thin."
Well, it's four-and-a-bit years later and that miracle cure is with us. And, in a rather strange turn of events, it's Spencer who is its loudest champion.
As the co-author of The Fast Diet - written in collaboration with Dr Michael Mosley - Spencer, 45, has turned from diet sceptic into dietician overnight. She's the spokeswoman for the 5:2 diet, which says you can eat whatever you want for five days of the week and then "fast" on the remaining two, consuming only a very small number of calories.
Released just in time to catch the annual January season of self-loathing, the book sailed to the top of the Amazon bestseller list, where it has remained ever since. It has sold 350,000 copies in Britain and 100,000 in the United States and has been translated into 30 languages including Arabic, Taiwanese and Bulgarian. Spencer is about to tour the US, and is even allowing herself to dream of a low-calorie cooking show. Not bad for a former fashion editor.
We meet at a restaurant in London, where she has just finished lunch (she's now on a 6:1 version of the diet, but since it is a "feast" day she has helped herself to bread, butter and tiramisu). She professes herself "blown away" by the success - and cites her own size eight figure as evidence that it really works.
"That's the reason the book is selling," she says. "It's not because it's some great work of literary genius. It's because it's good. My father, who's 75, phoned me this morning to say he's lost 29lb [13kg]. It works - then people tell their friends and it works for them, too."
Certainly, it's working its way around the globe. "It's amazing," says one female friend, soon to be married. "I get to have huge amounts of cheese and wine and still lose weight.
I just go to bed at 8pm the other days - but what's the point of being awake if you can't have wine and cheese?"
Another reports: "It's the best diet ever for five days. And the other two you get through by saying, 'It's only a day, I can eat tomorrow'."
The formula appeals to men, too. "It's a nice, blokey kind of diet," says one friend, though he does advise against going to a heavy metal gig when you've made up your 600 calories with two pints of Guinness and an orange.
Spencer herself was just such a convert. "I've written about diets for 25 years but this is the first time that I've found something that works on a psychological as well as a physiological level."
Still, it's one thing to write an article about a diet, another to write the book on it and spend four months at the top of the bestseller chart. Spencer's transformation began when she saw Mosley present an edition of the BBC's Horizon documentary programme last year in which he tried the 5:2 diet - with miraculous results.

She was dispatched by a weekend newspaper to investigate further. She was the natural choice for the assignment, since she had tried every grapefruit, cayenne pepper, Dukan, Atkins and cabbage soup regime going in the name of journalism.
This time, however, the biology and the psychology convinced her. "There's a lot less deprivation than the other diets I've tried, where you can't go out for a meal with your family. You don't feel trapped by your eating. Most of the time you're not thinking about it."
And so her entrepreneurial streak kicked in.
"I got on with Michael, so I asked if he had considered writing a book. Then I said he should write it with me."
The pair clicked. "He has the gravitas and the medical background; I can fix little balloons to it and show what it's actually like to do it," she says.
And then things moved "extremely fast". They wrote the book in eight weeks. It was released on Boxing Day. By January 4 it was number one on Amazon, where it remained until it was supplanted by Spencer's follow-up, the Fast Diet Recipe Book, in April. "I knocked myself off the top spot!" she says.
Now slow down, Mimi. Doesn't every diet claim to be unlike all other diets and offer fantastic results in weeks? "The fact is, the Fast Diet isn't a quick fix," she says, even if its name may give you the wrong idea. Spencer is proud to have dropped two dress sizes - but is being size eight really healthier than being size 12? "It might not be healthier. I think your body finds the place where it feels right."
Of course, she's aware of all the issues such as the "thigh gap" and #thinspiration. She talks thoughtfully about how women look at their bodies, both in relation to a past ideal (how they looked when they were 17) and a perceived ideal (how singer Rita Ora and British model Cara Delevingne look).
"There is a constant refrain of disappointment with our bodies. I was subject to that just as much as anybody else. But I've got to be honest with you - losing the weight has made me happier.
I know that's banal. I get it. I'm not an idiot. But I get pleasure from feeling good in my clothes."
She plays down my estimate of how much money she has made from the book; for the moment there are no plans to move away from Brighton, where she lives with her husband and two children. However, she has treated herself to a brand new Mini and has a tan from a recent overseas holiday.
Isn't it weird to be handsomely rewarded by an industry that she has railed against in the past?
"What can I say? It's something that I adopted as a journalistic enterprise to write about it. It worked brilliantly. I've worn a bikini with pleasure for the first time in 12 years. I have two children and I'm at an age when I don't want to be carrying around extra weight. It has changed my life. And if that means I'm going to fly the flag for it, then so be it."
THE FAST-DIET PHENOMENON
The idea is that fasting for two non-consecutive days each week and eating normally for the rest of the week is beneficial.

Scientists in the United States have shown that the body's reaction to periodic fasting - the changes it produces at a metabolic level - can help you to lose weight as well as cut the risk of cancer, heart disease and diabetes. It can also boost brain power.
But it's not actually a fast. Women are allowed to eat 500 calories (2092kj) a day; men are allowed 600. Most of those calories should be from protein, leafy vegetables and a bit of fat.
Studies show that people who eat freely on non-fast days lose more weight than those who continue to be abstemious on their days off.
For those in good health it should have no side-effects, but if you take any medication, consult your doctor before embarking on the regime.


• The Fast Diet Recipe Book, by Mimi Spencer and Dr Sarah Schenker (Short Books) is out now.
- Independent