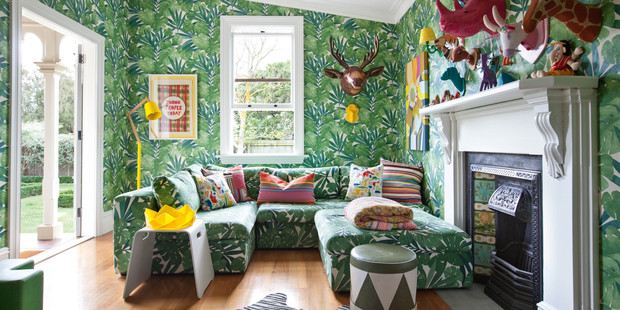 KEY POINTS
A playful blend of colour and pattern makes a Blenheim home an adventure for the eye
One look inside interior designer Alex Fulton's Blenheim home will tell you she's not overstating things when she describes her style as "original, non-conformist, challenging, amusing and cheeky but functional".
Within the renovated 1903 villa, a riot of colour and unusual objects express the personalities of Fulton, her husband Jeff and their daughters Isla, 9, and Violet, 7.
"We've designed our home to reflect who we are, not what others prefer to see," says Fulton. "It's a full-on fusion of our personalities, loves and memories."
That's an approach she also brings to her interior design business. She says it's a product of being born into a creative family ­- her father's a trained tailor and her mother's a crafting expert.
"They've always encouraged me to create, be adventurous with colour and to follow what feels good," says Fulton.
The family moved to Blenheim after years spent living in Christchurch. "Most of Jeff's family is here, which is lovely for the girls, and we also love the rural aspects and the stunning Marlborough Sounds, the world-class wineries, big skies and outdoor pursuits all on our doorstep," says Fulton.
"The clincher was finding this house - it's delicious."
The villa had been beautifully restored and presented a blank canvas on which she could work her magic. "We've used paint everywhere. It's playful and fun, which is more our style than unpainted original wood features."
Her favourite piece in the house is the yellow dining table surrounded by pink chairs. It has Sri Lankan origins and had been a family heirloom for more than five decades. Fulton spotted it on the internet and fell in love with its traditional shape.
"I used it for a design competition called Dine By Design, where I designed a dining room based around traditional design shapes but in unexpected colours."
It won the People's Choice award but was too big for their previous home, so spent two years in storage. "When I first saw this house I knew it was the perfect space for such a statement piece," says Fulton. "It's still a family heirloom, but for a new family with a different take on tradition."
In the "jungle room", Fulton has created a fun family space using "Paradise" wallpaper by Belgian company Arte. "We all love this informal living room. It's pure joy," she says. "I've used my collection of crazy animal heads, bright artwork, a vintage school world map and blow-up animal trophies to give it a hunting-lodge-meets-Alice-in-Wonderland feel. It's busy but strangely calming."


Style tips
Balancing act: While Alex has used bold wallpaper, she's anchored it with a plain white ceiling, skirting boards and window frames.
Screened out: If you want to hang your TV on the wall without making it a focal point, consider clustering frames around it to distract the eye and give the room a gallery-like feel.
Ordered ideas: When decorating walls, Alex advises: "Mix framed pieces, homemade designs and some of your favourite objects. I like to rearrange them in a very ordered fashion, so even though it seems random it makes sense to the brain. Remember it's your wall, so put things that you love on it."


• Leanne Moore is the editor of Your Home & Garden. For more pictures of this home see the latest issue of Your Home & Garden, on sale now.