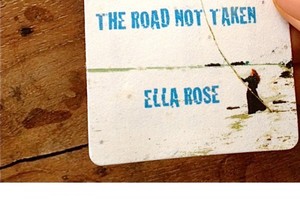 UK-born singer songwriter, Ella Rose, has released her first album 'The road not taken.' The innovative album comes in the form of a 'seed dropcard'; a wallet-sized recycled paper card which displays the link to download the album and is embedded with wildflower seeds. Once downloaded, the album can simply be tossed into a garden and watch as wildflowers spring up.
Rose has been a professional session singer for nearly 15 years and has worked extensively in Europe. Her album was produced by Roundhead Studios' Ben King and Neil Baldock, the album features Rose, former members of Goldenhorse and other guests.
The dropcards come from Dropcard, an American company making wallet-sized download cards that display either a download code or a QR code to scan directly into your phone. Rose says she is even looking into getting special New Zealand native seed cards made for the official album launch later on this year.
She says the desire to use seed cards stems from research into the environmental impacts of compact discs (CDs).
"In my research into CD printing and packaging I started finding out how damaging those packaging methods were in environmental terms! Like all plastics they take a huge amount of time to biodegrade, so the jewel case [the term for the casing the CD comes in] and the CD itself, not to mention the packaging, are an act of aggression to the earth, the opposite of the intention of music and most musicians," says Rose.
She says that given current technological advances, CDs are nearly obsolete and alternatives like seed cards could be the way forward. "Given the digital age, and the prevalence of downloading, it seemed like a waste of money and resources generally to use all that plastic and printing ink, just to have it thrown away once the album was copied into the hard drive of your computer or phone."
The Guardian's Lucy Siegle had this to say about CDs:
"They are made of polycarbonate, not as bad as PVC but still fused together with aluminium (therefore the recycling process is energy intensive) and a series of solvents. Then there's the scourge of the CD jewel case... A very recent study by three US academics - the first to compare directly the energy and greenhouse-gas impact of downloading music versus purchasing CDs - concluded that downloading was far superior. Even comparing the worst-performing digital download album to the best-case CD delivery (where the buyer walked to the music store), the CD created nearly 65 per cent greater CO2 emissions... Nor would it be in any way eco efficient to chuck your CDs into landfill. We lack an overt campaign to recycle CDs in the UK and recycling tips tend to be a bit Martha Stewart, ie: attach ribbons and use as tree decorations. But they can be ground down and reused - polymerrecycling.co.uk is one indigenous re-processor."
The seed card moves away from unnecessary plastic CDs and packaging and signals a move to a low-impact music industry.
Check out Rose's first single 'Falling in love'.