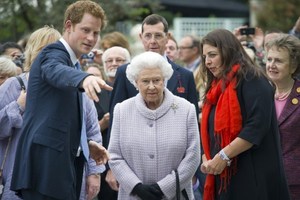 Australia's gardeners have completed their spectacular display at the Chelsea Flower Show and hopes are high as they bid to claim the prestigious event's top prize for the first time.
Check out all the pictures from this year's event here.
A crew of volunteers backed by Fleming's Nurseries has spent the past few days working day and night to put the finishing touches on their entry.
The end result was shown for the first time to judges and the media on Monday before gates open to the public on Tuesday.
It's already received rave reviews by many, including Prince Harry who visited on the weekend, and the garden's designer couldn't be happier.
"It's better than any dream I ever had," Phillip Johnson said.
"I'm overwhelmed with how we've executed this on the other side of the world with an incredible group of volunteers."
The Queen was among the special guests due to view the garden on Monday afternoon, while the judges will announce the award winners on Tuesday morning (Tuesday night AEST).
It is Wes Fleming's ninth and final entry before he shifts his focus to other things and he believes the team has given him every opportunity to go out a winner.
Fleming has won plenty of honours over the years but never the big one, the Best in Show.
"Normally when the judges are here, I'm quite comfortable about it but this morning I was quite nervous this time because I've really pinned my hopes on this and I think this is our best garden," Fleming said.
"We've won a gold (medal) before and this is a level above gold medal. What's level above that? Best in Show."
The $2 million design blends several elements of Australian nature and has a strong focus on sustainability.
It features a lush desert gorge with huge boulders, a native wildflower meadow and a natural billabong and waterfalls using recycled water from nearby buildings.
The centrepiece is the "waratah studio", which towers over the garden and features a viewing area designed specifically for the Queen's eye height.
As more of a landscape than a garden, Fleming and his crew may have to win over the traditionalists to beat out 14 other designs to the top prize.
But Fleming feels it might be now or never for Australia.
"I couldn't see an Australian garden winning Best in Show if this doesn't, unless we purely go out and mimic and English garden," he said.
"But either way there'll be no regrets and I've never been more proud of a team."
The sold-out Chelsea Flower Show runs until Saturday.
- AAP