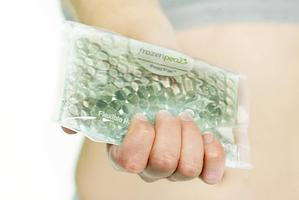 A bag of frozen peas is an age-old remedy for sore joints and bruises.
Now, an innovative medical product called frozenpeaz - sealed packs containing tiny balls of solidified corn syrup, dyed pea-green - looks just like the vegetables and offers the same benefits, without wasting food.
Traditional ice packs - usually plastic bags containing silicone gel - and cold compresses reduce swelling by constricting blood vessels and can numb pain. They are widely used to treat injuries and tackle acute and chronic pain.
They are useful and convenient because ice packs often need to thaw, lessening the chilling effect, while peas conform to the shape of the knee or other joint. But once they are thawed, they form into clumps when refrozen.
Now researchers have developed a perfect 'bag of peas' that can be refrozen without losing its shape.
Frozenpeaz conform to the shape of the joint no matter how many times they are frozen.
The corn syrup 'peas' - the same size and colour as the edible type - come in bags that can be put into wraps shaped for knees, shoulders and faces. They cost between NZ$37 and $92.
Frozenpeaz need to be in a freezer for four hours to freeze completely, but will provide some relief after two hours.
Twenty minutes is the recommended maximum time for a session of cold therapy.
The same device can be used to provide heat therapy, also effective in treating chronic joint pain. Instead of putting the 'peas' in a freezer, pop them into a microwave.
They can help relax sore muscles or increase the range of motion in a painful joint.
"Ice packs and hot and cold treatments are a proven way of easing the pain of arthritis in the short term, and some might find this product useful," says Jane Tadman of Arthritis Research UK.
"But they are much more expensive than a pack of peas."
- DAILY MAIL