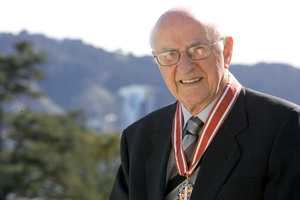 The final day of the Auckland Writers and Readers Festival was bookended by standing ovations for two of New Zealand's ground-breaking writers of the past 50 years.
In the morning Sir Lloyd Geering called for his audience to live compassionately in a world without God, in his 2013 Michael King lecture entitled "How Humans Made God".
The 95-year-old theologian characteristically declared the idea of God had been a way to make sense of the universe and human existence. "We now find we are on our own on a tiny planet in a cold unfeeling universe which has no interest in us whatsoever. We must shoulder the responsibility for our future. We now have to play the role of God in ways that we've never had to do before."
Sir Lloyd later paraphrased the ideas of 19th century German philosopher Ludwig Feuerbach into a humanist aphorism: "We must replace the love of God with the love of man, the belief of God with the belief in man."
At the end of the day, in a star-studded session, "special guest readers" Witi Ihimaera, Selina Tusitala Marsh and Bill Manhire joined Robert Sullivan onstage to pay tribute to "our beloved author" Albert Wendt, the festival's Honoured New Zealand Writer for 2013. Novelist, poet, playwright - and now painter - Professor Wendt talked about the traumatic loss of his mother when he was 15 and far away, and about being inspired by Franz Fanon, William Faulkner and Albert Camus.
Wendt - a pioneering Samoan writer - also mentioned his pleasure in seeing Pacific-heritage artists participating in all art-forms in New Zealand, which he called "a huge change in our country".