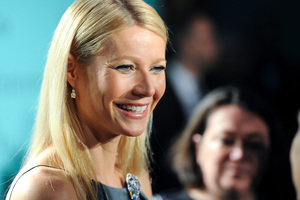 Gwyneth Paltrow is set to show off her cooking skills to a group of fans who have paid US$2000 for a meet-and-greet session with the star.
The Iron Man actress, who is a keen cook and boasts two best-selling recipe books, offered 60 fans of her lifestyle blog Goop.com the chance to travel to New York for a private cooking class on June 14.
The deal, which was advertised through Groupon.com on Tuesday, sold out in a matter of hours, despite the hefty price tag.
The advert stated: "You and a friend are invited to the private goop event, which begins at 6pm on Friday, June 14.
"You can munch on appetisers and sip cocktails before goop editor-in-chief Gwyneth Paltrow gives a cooking demonstration. You'll leave with a signed cookbook.
"Not only will you meet Gwyneth, you'll also dine at the Bistro La Promenade restaurant, get the star treatment at Great Jones Spa, and catch 40 winks stay at the 4-star DoubleTree by Hilton Metropolitan New York."
Paltrow recently said it was her dad's cancer diagnosis that was the catalyst for her healthy lifestyle.
She said her obsession with wholefoods and natural products began when she was trying to help her late father Bruce Paltrow - who passed away in October 2002 - beat his throat cancer by researching alkaline diets.
She told the debut issue of Beach magazine: "I began to consider the effects of food when my father was diagnosed with throat cancer in 1998. I started to research anti-cancer diets in hopes that he would try to hit it from all angles."
The 40-year-old star believes avoiding processed food and sticking to organic produce can have a massive impact on your everyday health and state of mind.
She explained: "It's about being mindful about what you are putting in. Good whole foods are the way we have eaten for generations. It's amazing how good you feel when you just cut out the processed stuff."
Gwyneth came under fire for her super strict lifestyle in the past, with critics calling her a "bad mum" after she revealed her daughter Apple, eight, and son Moses, seven - who she has with her Coldplay frontman husband Chris Martin - have gluten and dairy free diets.
She insisted her kids only follow her special diet plan because Moses suffers from bad eczema and is allergic to gluten and cow dairy.
- BANG! Showbiz, WEN