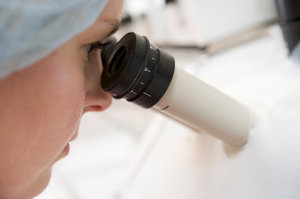 Women undergoing IVF treatment are three times more likely to have a baby through a new technique that scientists are claiming as the biggest fertility breakthrough for 35 years.
The advance means that couples treated by the new method could have a 78 per cent chance of success, compared with average "live birth" IVF rates of around 25 per cent in Britain, they say.
The technique uses "time-lapse imaging" to take thousands of photographs of developing embryos and pinpoint those least likely to carry chromosomal abnormalities. Only those most likely to result in a healthy pregnancy are then implanted.
The scientists behind the study said it was "the most exciting and significant development for all patients seeking IVF" in at least 35 years.
The technique, which is being used in four clinics in England, is expected to dramatically improve success rates.
It may also offer hope to older women who have ruled out IVF because most eggs are likely to carry abnormalities after the age of 40.
Professor Simon Fishel, managing director of the Care Fertility group, said: "In the 35 years I have been in this field, this is probably the most exciting and significant development that can be of value to all patients seeking IVF."
Independent experts said the results were "really impressive" and that the technique appeared to be "one of the biggest steps forward" for decades, but called for further trials to replicate the results. In most IVF labs, a developing embryo yet to be transferred to a womb is checked up to six times over five days.
The new technique monitors the speed of development and pinpoints when embryos reach critical stages. Those that are too slow, which indicates abnormalities, are discarded. The time-lapse imaging allows more than 5000 snapshots to be taken.
The technique, which costs £750 ($1410) on top of IVF costs of up to £3500, is being used in clinics in Manchester, Nottingham, Sheffield and Northampton.
The study, involving 69 British couples, appears in the journal Reproductive BioMedicine Online.