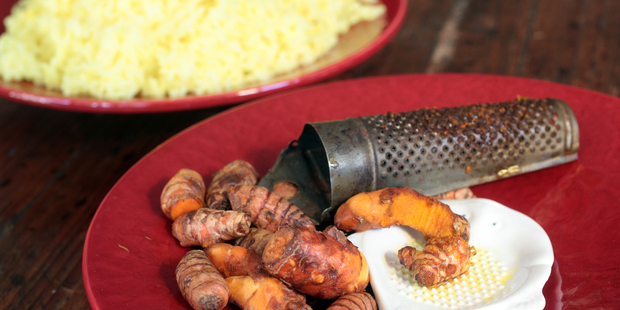 Gianni, Loraine, John and Michele run Stonecircle Farm, a fully certified organic farm on a 6ha plot between Amberley and the sea (see stonecircleorganics.co.nz).
The Christchurch earthquake disrupted their well-established Christchurch supply line, but has this held them back? No.
Happy as sunflowers, they grow and introduce old-world vegetables and new-world produce to the public at markets.
One of the things they grow is turmeric. Most of us think of turmeric as a golden-coloured ground spice. Fresh turmeric is a knobbly little rhizome that looks like a mini fresh ginger root. You see it at Indian and Asian markets, and I'm beginning it see it offered more at general farmers' markets.
Serve it with Asian and Indian dishes, add to slow cooks and use to brighten up your table. Grate it to add to rice; the more turmeric you add, the more brilliantly yellow your rice will become.