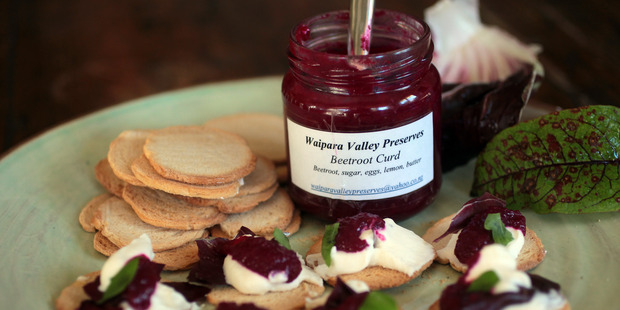 Jonathan is one of those characters who typify farmers' markets. He is a bit of an off-the-wall dude who discovered a new lifestyle and followed his kitchen passion. Still supporting his lifestyle by plastering during the week, he's cooking up other stories to take to the market. You can contact him at jisaako42@yahoo.co.nz
Here's his Beetroot Curd recipe. Off the wall, yes, but a novel approach to beetroot!
Makes five 225g jars
• 450g beetroot
• Finely grated zest of two lemons and 100ml juice
• 125g butter
• 450g granulated sugar
• 4 large eggs


1. Bake beetroot and peel, weigh 450g. Mash, blitz or puree.
2. Stir in lemon and sugar. Let sit overnight.
3. Next day, put in a double boiler. Heat, add eggs and butter. Bring to about 65C. Be careful not to scramble the eggs.
4. When done, pour into hot sterilised jars and seal. Serve on crackers with some cream cheese, feta or sour cream.