Address:
424 New North Rd, Kingsland
Phone:
(09) 846 4964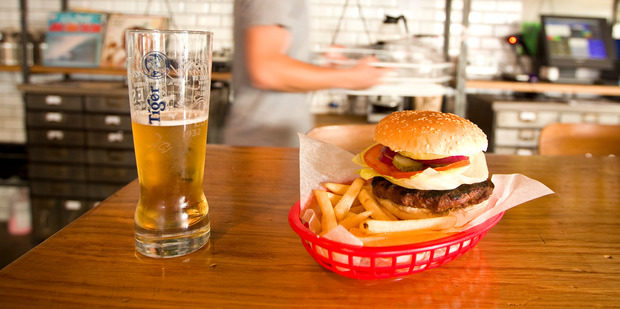 I didn't know this was here, to be honest. Usually, when I come out of Kingsland station, I tend to turn left out of habit, since that is where the bars and restaurants mostly are, but someone suggested we meet here and so we did.
I can tell you that the difference between a midweek afternoon and a Friday evening is huge. On the Tuesday, I wandered into a deserted main dining area and stood at the bar, whistling for quite some time until the bartender in the outdoor area yelled in to me that if I wanted serving I'd best head out there. I must point out that she wasn't rude, but it's a long time since anyone shouted across a bar and called that service.
Anyway, outside was a lovely little spot, with plenty of open air under the retractable roof and plenty of heaters, too, in view of the encroaching winter. The beer was fine - the addition of bottled versions of the Monteiths Brewer's range was nice - but ruined slightly by being served in plastic glasses. It was a fine place for an afternoon catch-up, but no more.
However, when I went back on a Friday evening, I was taken aback, not only by the huge crowd of diners and drinkers, but by the level of service. A table was found for us, we were seated swiftly and served, and staff constantly dropped by to check if we needed anything. It wasn't just us, either; other tables were getting the same service.
The food was excellent, especially for the price - there aren't too many places offering a burger and fries for $10 every day of the week and the nachos was excellent, too, as were the churros.
The wine list was interesting, as was the cocktail selection. If they can make the service consistent at their Friday night standard, this place will do very well.


Scores
Service: 1 and 4
Drink: 4
Food: 4
Atmosphere: 4
Overall: 4.5