Danielle Wright meets a group of teenage lawn bowlers at the New Lynn Bowling Club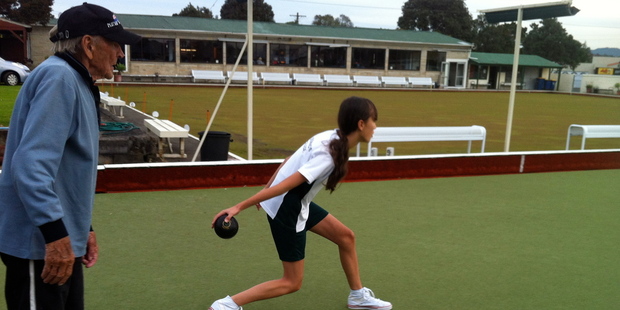 Bowling is often considered a retirement sport, but I discovered that there are kids as young as 4 taking on the older generation - and beating them. To my surprise, I learned that most of the world champions are in their 20s and 30s, not their 80s.
It's the old guard, though, who are keeping the clubs alive with their passion for the game, and for teaching.
I meet one, Clarry Gillies, who is 88, but with the twinkly eyes of a 20-year-old.
"The kids keep me and my mind active," says Clarry. "I wanted to teach them when I realised bowls had no grassroots, everyone who played was old, and the sport was diminishing. We got in touch with some schools and now we're busy teaching every night of the week."
Clarry came to bowls in his 50s, having played many other sports.
"I was always too big or not quite heavy enough," he says. "Then I found bowls, which is great for people like myself, who aren't built for the top echelon in sports physically, but are mentally very good.
It's very strategic."
Now Clarry coaches groups of teenagers from local schools who have opted for bowls instead of regular sports such as netball and soccer. And they are producing champions.
Their venue, the New Lynn Bowls Club, is a sprawling three greens, including one artificial one for rainy days or winter training. There's also a bar with darts and pool.
The summer season is long, running from October to May, but there are still some hardy souls who play all year round.
The game takes thought, with bowls having a bias and two different sized rings on them - the larger ring represents the bowl turning away and the smaller ring indicates turning in. The aim is to get your bowl to the jack, a yellow or white smaller ball inside the "rink".
The bowls are heavy and usually black; however, one of the club's managers, Scott Evans, runs to the car to get his black and gold speckled set.
He tells me there's even bright yellow and pink versions.
Playing as a junior at the club has been a career move for Scott, who is a manager at two bowls clubs. He tells me that although there's not much money in bowls in New Zealand, overseas it can be a decent money-earner, especially in Australia.
After their training session, where faces are in deep concentration and it's all taken quite seriously, the girls on the green tell me why they took to bowls.
"I absolutely love coming here," says Gabriella Brayne, 13. "The people who coach us are absolutely wonderful - Clarry is so lovely and helpful and explains things really well - and we get to practise hand-eye co-ordination while having fun with friends."
She's also looking forward to having a day off school for the tournament on Monday.
"It's been a completely new experience," says Ingrid Horide, 13, who also swims and does karate. "It's sometimes hard, but great fun and it's a chance to play sport and be with my friends."
Says Clarry: "It's quite hard to keep them in the sport because of part-time work commitments and later college or university, but they always come back to bowls at some time in their lives."
There's something about skipping a generation, or three, that makes an ideal teaching combination. For many teens, with grandparents overseas or in different parts of the country, learning bowls is not just good for them, and fun, it's also a way to connect with an older, immensely patient age-group.


Bowled over
• The Auckland Secondary School Championships are on this Monday, May 20 (10am, Remuera Bowls Club, 6 Market Rd, Remuera). The competition also runs at Mission Bay Women's Bowling Cub (30 Melanesia Rd, Kohimarama) and Epsom Bowling Club (77 The Drive, Epsom).
• The New Lynn Bowling Club is at 3 Reid Rd, New Lynn. Pop into the club after 2pm any day of the week and chat to members, who will show you around and explain the different levels of membership. newlynnbowls.co.nz
• Bowls NZ is celebrating its 100th year. For more information about the sport, visit bowlsnz.co.nz