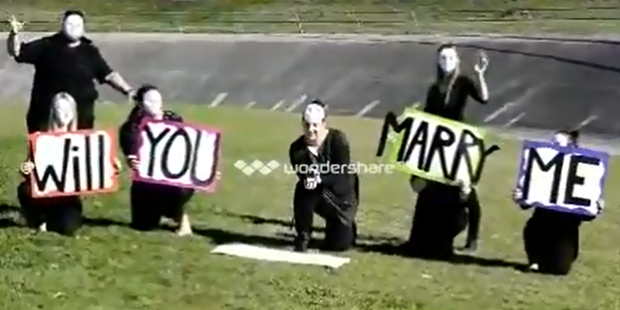 It's what you could call a public display of affection - Rotorua's Nicole Witt used Facebook and YouTube to propose to her boyfriend Todd Eckersley.
And she got a yes.
Nicole's video is now gaining hundreds of views and likes on Facebook.
"I decided a couple of months ago that I was going to propose - he's quite shy," Nicole, 23, said.
"I thought of what I would like if I was being proposed to. I got together with some friends and we watched a couple of clips [on YouTube]. We put it together over three weeks."
Nicole and six friends dance to Katy Perry's Teenage Dream, halfway through the video Nicole holds up a sign "Todd, I love U more than I could ever explain, U R the love of my life and my best friend so I just hv 1 question 2 ask".
A minute later four of her friends hold up signs spelling out Will You Marry Me, while Nicole kneels down with a ring box.
On Saturday she posted the video onto her Facebook page and made sure it would also appear on her boyfriend's page. She immediately told Todd, 38, he needed to check his account.
"I got a yes," Nicole said.
"He was pretty shocked, really surprised but happy."
The video was filmed at the Rotorua velodrome as that is where Todd learned to rollerblade as a youngster. And even though Nicole and her friends had been practising the dance moves for weeks, he remained in the dark until the big reveal.
"It was pretty hard keeping it a secret," Nicole said.
"We would practise in the shed and he thought it was for work - he's pretty trusting. He knows I like to dance a lot."
The pair are now planning on a 2014 wedding.
For more articles from this region, go to Rotorua Daily Post