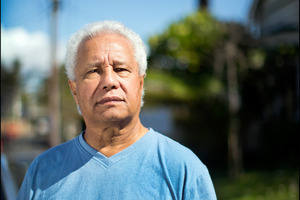 Budding writers will hear some sound advice from the professionals this week.
The Auckland Writers & Readers Festival begins today with a special Schools Programme for up to 3000 primary, intermediate and high school students from around the North Island.
Students from about 90 schools will take part in creative writing workshops and listen to several international authors during a two-day programme at the Aotea Centre.
Among those giving advice is renowned Kiwi Pacific author Albert Wendt.
Wendt - who began writing at New Plymouth Boys' High School in the 1950s - regularly speaks to students about his work as a poet, novelist and playwright.
"Student audiences are my favourite audiences," he said, "because they're normally open, more willing to listen - most of them - and if they're enjoying literature at school ...
then they're coming because they want to come and not because they're being forced to.
"They're sometimes better than university students in ... being open to new ideas and new ways."
Other guests include Scottish-Nigerian poet and fiction writer Jackie Kay, British young adult fiction writer Patrick Ness, Australian writer and comedian Olivia Phommavanh and Wendt's niece, Samoan fantasy writer Lani Wendt Young.
Festival director Anne O'Brien said this Schools Programme was the biggest yet and numbers had to be capped because interest was so great.
• For more information visit: www.writersfestival.co.nz.