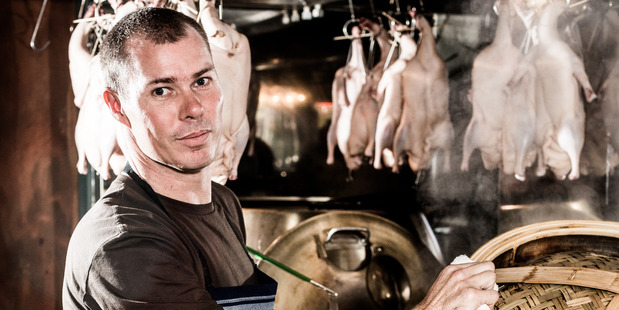 Chef Che Barrington does to Chinese cuisine what Baz Luhrmann does to the classic story in film – he brings it into the now with such dazzling brilliance that you are swept away in the moment and left wanting more, more, more. From his days at Sydney's Longrain, then Ponsonby's Moochowchow and now the newly-opened, The Blue Breeze Inn – his latest venture with restaurateur Mark Wallbank – Barrington continues his passionate fling with "Asian-inspired" flavours.
At Moochowchow he brought us his modern take on Thai cuisine, and now he's introduced a menu of crazily inventive, predominantly Chinese in origin street food that pings with flavour. Think pork and black truffle soup dumplings, wok flash-fried tuatua with pickled green chillies, grilled sichuan-spiced lamb ribs or red braised crispy pork ribs with wasabi caramel and pickled red dates.
Barrington is in heaven in his new kitchen, with his huge stainless steel duck oven (perfect for whole Chinese roasted duck) and giant woks that hiss and spit over the gas burners. "It's so great to be cooking using a wok again," he enthuses.
Sitting up at the bar that overlooks the long narrow galley kitchen, watching the frenzy of action as it unfolds is fun. It's a tight squeeze and, with a packed house every night since they opened, the team works furiously at their respective stations with barely an inch to spare.
There's no room for chaos under chef Barrington's watchful eye and when the food orders emerge from the kitchen, they are simply sublime.


• The Blue Breeze Inn, Ponsonby Central, 2 Brown St, Ponsonby, ph (09) 360 0303.
- VIVA