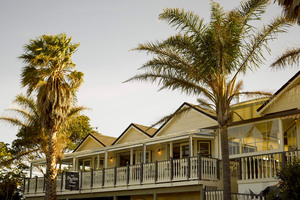 A New Zealand hotel has been named in the 2013 It List for Travel & Leisure magazine.
The Oyster Inn on Waiheke Island is number 28 of the 61 coolest new hotels worldwide, ranking alongside properties such as The Peninsula in Hong Kong and the Mandarin Oriental in Guangzhou, China.
Owners Andrew Glenn and Jonathan Rutherfurd Best opened The Oyster Inn, a boutique hotel with three bedrooms, a small private function room, a restaurant and a beachwear shop, in November last year.
Mr Glenn, 40, said the honour was a coup for the hotel, which would feature in the June issue of the magazine in America.
"We're just overwhelmed and so thrilled to be part of such a prestigious group of properties around the world."
The inn, the only New Zealand hotel to make the list, was named in the beach category. Other categories included city, rustic, renovation and resort.
The pair came across the upstairs premises in Oneroa a month after they returned to Auckland, having worked in hospitality and fashion marketing in London.
"We decided to throw caution to the wind and follow our dreamsand decided to change our lives completely and move to New Zealand."
Mr Glenn, who grew up in Hong Kong with a Chinese mother and Kiwi father, said they were immediately drawn to the idea of a restaurant with rooms, and added a shop to create a mini-resort atmosphere.
"I think we were one of the first people on the island to combine a restaurant with accommodation and retail. We tried to combine the elements you love having when you go to a resort."
They used interior designer Katie Lockhart, whose work includes Karen Walker stores, and hired returning New Zealand chef Cristian Hossack from Peter Gordon's Providores restaurant in London.
It's the second accolade the inn has received in as many months after it was named in Metro magazine's top 50 restaurants for 2013.
Mr Glenn said a world-class hotel was about personalising the experience.
"We like to think of The Oyster Inn as our home. We treat our guests as we would our friends and not just as clients. It's about going the extra mile to make sure everyone is happy."