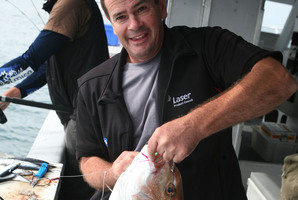 Snapper fishing has taken off, but because of recent rough weather not many people have been taking advantage of it, and with sea temperatures still near 20C there could be another round of spawning.
Snapper are feeding hard and females are developing roe again, and with kingfish common on the surface all the signs suggest that the seasonal movement of the fish is running two months late. Kingfish have usually moved out to deep water by now.
In Auckland, there is good fishing in the Rakino Channel and around the Maria and David Rocks, and a local charter boat last week reported its best three days of fishing for the whole summer in terms of numbers and size of snapper.
Some big snapper are coming from Great Barrier and Little Barrier Islands, and straylining along the edge of the kelp in the shallows around the islands can be good. If the fishing is slow, it pays to wait for the tide change as it can be like turning on a switch.
In the Bay of Plenty, snapper can be found on the 20m line and tarakihi are out at 60m or more.
Kingfish are taking live baits, but jigging should pick up as the water cools.
The big news at Tauranga is the broadbill swordfish being caught during the day. Traditionally game fishermen have drifted at night for the swords when they move closer to the surface.
But more recently game boats from Northland ports have been applying methods introduced from Florida, dropping to extreme depths during the day.
The baits are usually fresh squid or whole fish like skipjack tuna, and they are dropped to 600m or more off deep sea rises like the Alderman Rise or the Rangatira Reef. One Tauranga boat has caught seven swordfish with this method.
The recent rain has put fresh water into the Taupo rivers, and there are fresh-run fish in the Tongariro River, but there have been few anglers.
More rain will help as much of the heavy rain which hit the North Island missed the river's catchment, and it is needed to flush the juvenile trout out into the lake. But there are still some brown trout running up the river, and the rainbows caught are reported to be in top condition.
There has also been a slow improvement on the Rotorua lakes where fly fishing is picking up.
Some fish have come from the Te Wairoa Stream mouth on Lake Tarawera and the first few have been recorded in the trap on the stream. The jetties at the Landing are also attracting some anglers.
On Lake Rotoiti the first fish have been taken at the Transformer and Ruato Bay.
Bite times today are 12.40am and 1.05pm, and tomorrow at 1.30am and 1.50pm. These are based on the moon phase and position, not tides, so apply to the whole country.
• More fishing action can be found on Rheem Outdoors with Geoff, 6.30am Saturdays, TV3.