Greig Morgan makes Mother's Day a breeze with this elegant photo frame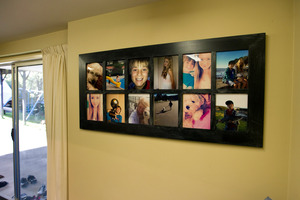 Homemade gifts are always the best: ask any mum worth her salt and that's what she'll say. So, pick your best shots, print them off and start work on this elegant multi-image photo frame. That way mum can be reminded all year how loved she is.
Step 1 - Using a straight bit set the hand router to rebate the frame to the same depth as the thickness of your dividers (10mm), and set your guide to rebate in 6mm. This will allow the glass and MDF backing to sit into the frame. It's a good idea to practise on a piece of scrap wood. For safety, use clamps to secure and support the piece to your workbench.
Step 2 - The number of photos you want to display will determine the size of your frame. Also allow for the dividers. Using the 45-degree angle on the combo square, and with the rebates facing inwards, neatly cut along the waste side of the pencil line.
Step 3 - Glue the mitred joints and clamp together using mitre clamps.
Fix 14mm staples across the joints to help hold them in place. Now fix the corner brace on to the back corners with screws.
Step 4 - Once the glue has set, remove the clamps and, with the front still flat on the bench, measure and mark for the centre divider to fit.
Step 5 - Measure and cut the centre horizontal divider for a nice tight fit. Glue both ends and fit to your pencil marks with the best side facing down. Fix 9mm staples across the joints to help hold the divider in place.
Step 6 - Measure and mark evenly for the placement of your vertical dividers on the top and bottom of the frame, and along the centre divider.
Step 7 - Fit your vertical dividers as in step 5.
Step 8 - Measure and cut your sheet of MDF to make a backing to fit snugly into the rebate.
Step 9 - Fit the back into the rebate and carefully turn the frame over to trace around all the dividers, which allows for easy placement of photos using double-sided tape.
Step 10 - Remove all sharp edges with sandpaper and use a finishing sander to remove excess glue and any marks before applying a primer undercoat. Apply two coats of paint, lightly sanding between coats with 220grit sandpaper.
Step 11 - Take the frame to a glazier to fit the 2mm glass. Sit the back into the frame. Evenly place and fix your glazier points to hold the back in place, using a flat screwdriver.
Step 12 - On the back of the frame, measure from the top about one third down and fix the picture wire with staples. Pull the wire tight with pliers before fixing down.


Materials
• 100x25mm dress gauge pine clears (frame)
• 26x30x10mm square dress clears (photo dividers)
• Corner braces with screws to suit
• Staples 140/14 14mm & 9mm
• Wood glue
• Picture frame wire
• 3mm MDF
• Glazier points
• 2mm glass
• Two sided tape
• 120-150 grit sandpaper
• 220 wet & dry sandpaper
• Primer undercoat
• Paint
• 8x10 photos
Tools
• Mitre saw box with handsaw or mitre saw
• Combo square
• Tape measure
• Pencil
• Hand router with straight bit
• Staple gun
• Mitre clamps
• G clamps
• Screw gun
• Pliers
• Screwdriver
• Finishing sander