Tired? Stressed? Unhappy and pressed for time? Well broadcaster Wallace Chapman has some words of advice for you, writes Greg Dixon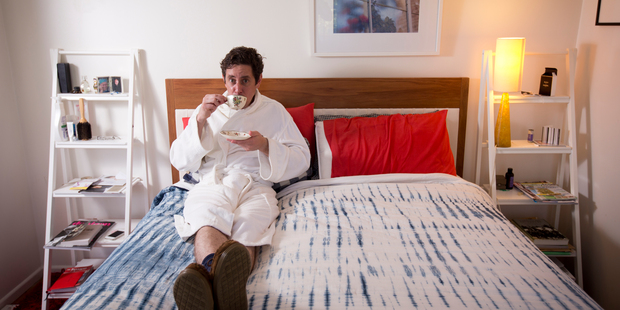 The buddha of suburbia opens his door, shakes my hand and offers tea.
"How do you like it," he booms as he warms the pot.
"As it comes," I bellow back.
When we're seated in the lounge of the Waterview cottage he shares with his wife Tabitha, he plays mother and pours. He is, I will report, hopeless at it; he slops the tea all over the kidney-shaped coffee table. This doesn't seem to bother him; if it'd been me, I'd have run to the kitchen for a cloth. Instead, Wallace Chapman - television personality, radio broadcaster, columnist, fashion blogger and now a guru of something called slow living - puts down the teapot and leans back into the grey fabric of his couch and smiles a beatific smile.
He's dressed in a blue shirt and black pants turned up at the bottom. His only concession today to his native dandyism are his suede shoes, which are the colour of sunflowers. His hair is a dark, wavy mass without a single grey apparent, and his face is amazingly smooth, almost unlined.
He looks pretty bloody good for his 43 years. Generally he's a healthy-living fellow - three gym visits a week - despite having a horrible complaint called Gaucher's disease, which has ruined a hip.
But he's looking a bit knackered too. He might now be a guru of something called the slow life, having just published a book about it called Don't Just Do Something, Sit There ("Wallace Chapman is the thinking man's Dalai Lama" is writer Steve Braunias' cover commendation). But he is also flat-out hectic the week we talk. Today there's me.
The following day he'll be down in Wellington to record Back Benches, the pub politics show that has been the making of him. He's being interviewed on TV One's Good Morning on Thursday. Then he's got to prep for his five-hour show on Radio Live, Sunday Morning with Wallace Chapman, which apparently involves an astonishing 18 interviews a week.
Busy, busy. His current state of mind is just trying to keep calm and carry on. "I'm trying," he says brightly, "to keep focused and not get too worn out."
Which, if I can be wildly reductive, is pretty much what this book of his suggests we all do. Don't Just Do Something, Sit There is a quick, lively, thoughtful read about living more slowly, a view promoted by a set I hadn't heard of, the "slow movement".
Born in Italy in the mid-1980s as the slow food movement (its conception was a protest against the opening of a McDonald's near Rome's Spanish Steps), it has since grown into a broader, global slow living subculture embracing the idea of slowing down most elements of life, from food and fashion to science and travel, and even love.
According to Chapman the slow movement's central principles are these: a holistic view of life, valuing quality over quantity, savouring rather stuffing, embracing bespoke over the mass-produced, environmental sustainability. "The slow-living process," he writes in his book, "involves simplifying your life and minimising distractions; reconnecting with 'place'; learning to resist transience and settle into a beloved location to discover its secrets."
If you're thinking it sounds a little bit new age, a little bit hippie-dippy, a little bit like the bastard free-love child of 60s counter-culture and 70s environmentalism, then I'd have to say it might be. If you're thinking that it sounds like Wallace Chapman, television personality, radio broadcaster, columnist, fashion blogger and now a guru of something called slow living who has written a "self-help" book, you'd be wrong.
A manifesto for living the slow life is what it is. It says so on the cover. Inside Chapman writes, "I've tried to keep my book part philosophical, part anecdotal, part research and never new age."
If it is a self-help book, it is one for cynics, he says. "What I mean is I am not a fan of self-help books. I don't relate to them, they're too ethereal to me. If anything, I wanted my book to be a mix of [British philosopher and writer] Alain de Botton and [cheesy American motivational speaker] Tony Robbins because, in a way, both have something to say."
Don't Just Do Something, Sit There is the first local contribution to the international slow living movement, styling itself as a part-philosophical, part-motivational manifesto for New Zealanders who, in an era of godawful globalisation and bonkers consumerism, find themselves in too much of a hurry and struggling.
"Astonishingly," Chapman says, "there was no person in New Zealand talking about how to live a little bit slower. I thought about the way I and my colleagues work, long hours, as New Zealanders do. Most of us work 50 or more hours a week, struggle to keep time and I just thought 'is there a better way to pass our time?'
"I just thought the time was right to write a book about slow living at a time that I think we're afflicted by the hurry sickness more than ever, and not knowing where it will go ..."
He would say this, but he claims the book is for everyone. "I think the audience for the book is a person who ... wants a change. Or that person who is a little bit stressed-out, just a little bit tired, just wants another way of thinking about life.
And that's a lot of us in New Zealand, that's a lot of people who actually want to go 'okay, what's next year got in store for me?'; or 'am I really happy in my job or my career?'; 'does my five-year plan include getting to know a little more about myself, spending more time with my family or my wife, my partner?' So the audience is quite large but it is quite ethereal as well."
The book is full of lists: six things you can do to slow the hell down (example, check your email only three times a day); nine ways you can live more locally (example, reintroduce the neighbourhood afternoon tea); six steps to being more "mindful" (example, sit still for 20 minutes). The penultimate chapter lists a full 31 things we can do to live a more leisurely life. Some are fanciful ("start the day by reading a poem"), some obvious (take exercise) and some I fully subscribe to (take public transport and, if you can get them, afternoon naps).
It is a step-by-step guide to, if not the good life, then to a more calmly paced and thoughtful one. Basically if you're hurry wart, he's taken all the hard work out getting your life back. But before you start thinking he's a selfless fellow for doing so, I'd best tell you his book isn't just a response to our lives, it's also a response to his.
Chapman's own life was a wrong turning. Well not a wrong turning exactly, more like an unexpected journey. He is the son of a Fijian Methodist churchman, Wallace snr, who came to New Zealand to train for the ministry, married Fay, a nurse, and raised three boys in South Auckland and Nelson.
Wallace jnr, who like all the Chapman boys was blessed with a brain (he has two younger brothers, Owen, 43, who's has recently gone back to uni to study law and Isoa, 40, a classical musician in Michigan), went to Dunedin for a degree in English and education psychology at the University of Otago. A masters, academia and the good life were to follow, tout de suite. Instead, within the space of two years, Chapman was crippled and subsisting on tea and toast, daytime television and the sickness benefit in a squalid Dunedin flat.
His diagnosis at the age of 23 with Gaucher's disease - an extremely rare hereditary condition - changed his life. It saw his spleen balloon up to the size of a 2L milk bottle (it was repaired by operation), deformed one hip and forced him to use a walking stick.
These days Chapman knows his disease means he can't travel, will need a hip replacement and requires monthly drug infusions. Pain is ever-present and he can't walk (these days without the stick) more than 1km at a time. But at first, when he was diagnosed, it seemed he was in for much, much worse.
"My future was set as this disabled person living in this flat. I though I would never be able to afford to get out of there."
Many of his friends melted away (though not one David Bain; Chapman would later be a character witness for him at his trial; he sees him maybe once a year) and he lived like a lock-in until another mate suggested Chapman help out at the university's student station, Radio One. His unexpected journey into the media had begun.
He stayed at the station six years, working as its creative director - basically the advertising manager - but also began learning the craft of broadcasting, with an arts and culture show. In 2001 he graduated to the big smoke, landing the job of creative director at Auckland's bFM, a gig he had for five years. He was pretty much an advertising guy for a decade, working with ad agencies and writing ads.
So it was a bit of surprise to some when he applied, in 2006, for the station's premiere on-air role: breakfast host. He got it, but just nine months later was dumped because the station's board was unhappy with his style. It was, he concedes, humiliating. It also left him with no place to go.
"It rocked me. I went drinking until 4 in the morning ... But I can remember waking up the morning after being laid off from bFM and thinking 'this is going to be the first day of the rest of my f***ing life and I've got a hangover and $1000 in the bank. That grand will last three and a half weeks. I've got three and a half weeks to rustle something up. Let's try to do it.' I am probably a lot more resilient than I think I am because of the disease."
His radio career - and this is a big raspberry to the chumps at bFM - has been solid since, with a stint on Kiwi FM and now Radio Live. However, it has been the cult politics show, Back Benches, which started on TVNZ7 in 2009 (it transferred to Prime this year), that's given him a real future as a broadcaster. But when TVNZ7 pitched the idea to him, he had his doubts.
"Part of me walked out [of TVNZ7's pitch meeting] and thought 'God, my first TV show and it's going to be this?' This is just real hard work. I've really got to step up. They don't know me in Wellington, the Beltway don't know me. I follow politics, but I'm not a politico and I am doing this live show with MPs.' It was the biggest challenge I'd ever faced.
"I wanted it to have the Wallace Chapman tone and that wasn't 'Beltway politico'. It wasn't 'funny guy'; I don't do comedy or satire; I just be who I am with the MPs. I thought 'how the f*** do you get people to do that?' The big criticism of the show at the start was it 'doesn't know what it wants to be'. My response was: 'it is what it is, man!'" He laughs. "It's the public square on TV, it's democracy on TV!"
What a nice man Chapman is. Am I surprised by this? I am not sure. People who are on the TV, in my experience, aren't always nice. But Chapman is too much his father's son to become one of those braying telly types, though he's certainly not without ego.
"I talk the way I talk, I think the way I think, I do the way I do. Nothing is a put-on.
Nothing has been established for any ulterior purpose. Look, we all have an ego and it is fair to say ... one's ego does grow necessarily - you're in an industry that needs a bit."
He says all this slowly, thoughtfully. But it's fair to say that for a man talking up the slow life, he sure talks fast a lot of the time. His sentences often career like out-of-control cars. Sometimes nobody seems to be at the wheel and they go nowhere.
Sometimes the words collide madly and you can't figureoutwhathehellheissaying.
Sometimes his thoughts splutter like they're running out of gas. He talks in stories.
Sometimes the stories seem like parables. He'll report whole conversations: "he said this, then they said, then he went this and they went that". He'll impersonate people and exclaim and giggle. But I don't think he likes to be interrupted. When I chipped in because I'd already heard (or read) some story he was telling, he'd briefly looked a little lemon-lips.
Perhaps he viewed my interruptions as bad manners; there is something awfully old-fashioned about him. He's a bit of a fop definitely, possibly something of a flaneur, too but what he is most, is a gentleman. In this, he is like his father who, rather shockingly, died of a heart attack at just 48.
Gaucher's disease may have shaped the younger Chapman's life in ways he could never have anticipated. It is clear, too, that he worships his 29-year-old wife Tabitha, a brand manager who he met at a Veuve Clicquot party on a wet Sunday six years ago and who he married last November. But I'd hazard a guess that both their influences pale against that of the late Wallace snr.
His father is a palpable presence throughout Don't Just Do Something, Sit There.
Wallace jnr writes with pride about how Wallace snr protested the Springbok tour, supported the homosexual law reform legislation and how he was pivotal to the starting a health centre in a tough area of Nelson, a centre that is still going today. The son, who is not a Christian, admires the "oratory" of the father's preaching too, even if the young Wallace jnr wasn't quite so keen.
I wondered aloud what his father would have made of his book?
"That's a good question," Chapman says. After a pause he continues, "I think he'd have been very proud of the book. I think he'd have been very proud of me. I miss him sometimes when I think about this sort of thing ... He had incredible faith, but he had an incredibly deep humanity. I guess, in small part, the book is a homage to him."
The guru of something called slow living smiles again and reaches for his tea.


• Don't Just Do Something, Sit There by Wallace Chapman (Penguin $30) is in bookshops now.
• Back Benches screens on Prime, Wednesday at 10.30pm