Carlos Ruiz Zafon tells Stephen Jewell why he likes visiting bookstores and supermarkets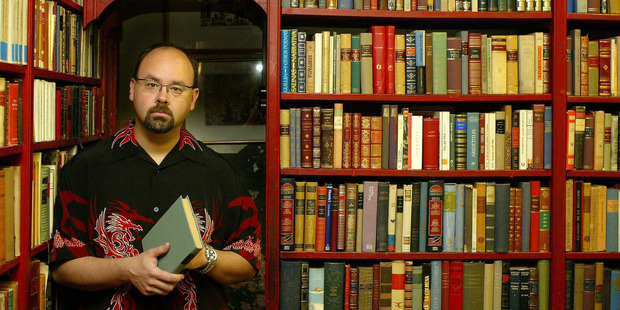 Most book fans would love to explore the vast collection of lost and obscure titles in the mythical library introduced in Carlos Ruiz Zafon's breakthrough book, The Shadow Of The Wind. However, the Barcelona-born author hopes to check out more everyday literary emporiums when he arrives in Auckland next week for the Writers & Readers Festival.
"I always like to visit the bookstores whenever I go to a country or a city I haven't been to before," he says. "I like going to the places that people use every day, such as the supermarket, as you can learn a lot about how a society works and how the people live. I like to learn about the culture of the places I visit and I certainly plan to do that in New Zealand. I'm going to be a fly on the wall."
Dividing his time between his native Spain and California, Ruiz Zafon is particularly fond of the second-hand bookshops on America's west coast.
"These huge places are like virtual communities of books and I spend a lot of time in them hunting for treasures," he says. "To me, they're like a sanctuary as there's something holy and magical about these places where you can find a book nobody has touched for 70 years.
I have dreams of being in one of those stores and picking up a book that has probably been there since the 1920s and a piece of paper falls out of it. It could be a love letter that somebody put in there or maybe a train ticket from Los Angeles to Chicago."
Unfortunately, with the advent of online shopping and e-books, such glorious bookish boltholes are becoming things of the past.
"There stands the history of memory and the magic of books and what that means in these places," says Ruiz Zafon. "To me, they're very precious places although they're in extreme danger and are rapidly disappearing as many of them are closing their doors. I'm one of those few eccentric people who try to keep them going by visiting and patronising them and trying to bring them business because they're very important, wonderful places."
It is that heartfelt concern about the future of literature that is at the heart of The Shadow of the Wind, which Ruiz Zafon first embarked upon while living in Los Angeles in the late 90s.
"When I first started working on the idea, I was thinking of a number of things such as how books impact upon people and the relationship between people, storytelling and language," he recalls. "But it's hard to know where the real motivation for a story comes from as they can grow inside you for a long time. Then, one day, all of those different reasons converge as you decide to dig out one of those things that have been doing the rounds in your mind for a while and you start fleshing it out."
Since The Shadow Of The Wind was first translated into English in 2001, Ruiz Zafon has followed it with The Angel's Game in 2008 and The Prisoner Of Heaven in 2011. The concluding volume (as yet untitled) in The Cemetery Of Forgotten Books series will first be published in Spain next year before appearing in English in 2015.
"I'm working on the fourth novel, which is going to be the last book in the cycle, where finally all the pieces in the labyrinth fall into place and everything will be seen from a different perspective," he says. "All the various elements that have been floating through the previous novels over the years will be resolved and it will all be seen in a different light."
In the meantime, The Watcher In The Shadows - the third in a quartet of novels for teens Ruiz Zafon wrote in the early 90s before The Shadow Of The Wind - has just been released in New Zealand for the first time.
A haunting tale of 14-year-old Irene Sauvelle, who encounters a mysterious, reclusive toymaker in a Normandy seaside village in 1937, it shares many of the same themes as his adult work.
"Those books were aimed at a very different kind of readership, which is what nowadays is called Young Adult fiction. But it didn't really exist back then as it was a long time before Harry Potter. They have different textures, densities and a different kind of approach to everything, although there's a common thread and sensibility that ties them all together. I see them as a progression and when I go back and look at my first book, The Prince Of Mist or The Watcher In The Shadows, I see elements that I've come back to later on, then expanded and elaborated upon them further. I see a lot of seeds and concerns in those books that have followed me over the years."
Like The Cemetery Of Forgotten Books, The Watcher In The Shadows explores the nature of storytelling. "Something that's common to all the novels is this idea of trying to deconstruct reality from different points of view. Even if you go to the juvenile novels, you'll see the advancement of the story is kind of deconstructed through the different narratives and through different characters and their motives.
"They're always trying to interpret what has happened and it is the reader who, after getting all these different versions of the truth, is able to reconstruct exactly what might have happened in the story. This is something you'll find in The Prince Of Mist and then the same concept appears in a much more complex way in The Shadow Of The Wind, where you have this character going back into the past to find out what happened to this cursed writer."


• Carlos Ruiz Zafon will appear at the Auckland Writers & Readers Festival gala opening night at the Aotea Centre on Thursday at 7pm, and then on Saturday at 2.30pm.