Address:
9-11 Pah Rd, Epsom
Phone:
(09) 625 6407
Rating out of 10:
Food: 8, Service: 8, Value: 7, Ambience: 7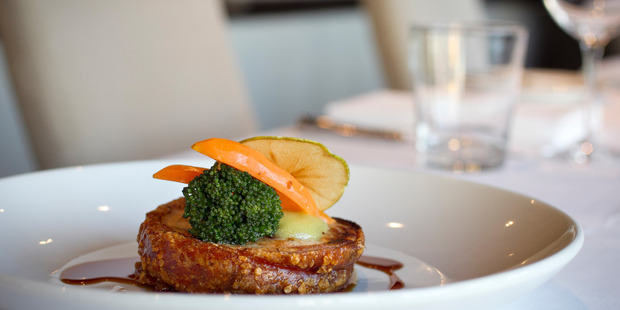 One Tree Grill is one of the long-standing enterprises of the Greenwoods Corner shopping precinct. It's been in business since 1996, gradually enlarging the premises to its current size, which can accommodate up to 100 people.
What might ordinarily have been a quiet week night was made busier by the looming public holiday the next day, so we were invited to take a seat at the bar while the staff prepared our table (our fault for not booking), but that was no hardship. One Tree Grill is the first 100 per cent digitalised restaurant in New Zealand, so playing with the electronic menu thing was exciting.
To table, and more electronic choices. While we browsed, we were offered, and enjoyed, an amuse bouche of cauliflower and celeriac soup with a good glug of olive oil - delicious.
So as not to spoil our appetites for the main course, we chose the tasting plate, which on this night comprised morsels of eye fillet, tuna and scallops. The steak was slightly tough but well-flavoured, the scallops were tender, and the tuna carpaccio'd to within
an inch of its life.
The main course offerings come in two lots - a straightforward list containing all the usual suspects and a list of plates from the grill. Bill's roasted pork belly roulade was excellent, tender and juicy with plenty of crisp crackling, baby vegetables and a Pernod-scented apple sauce. On the recommendation of sommelier Nick Harding, Bill also enjoyed a glass of John Forrest pinot noir - a perfect match. So was my Bridge Pa reserve syrah, to accompany the wild venison tenderloin from the grill. Alas, the venison was a little too muscular, even for wild meat, but the flavour was matchless. Our sides of roasted new potatoes and green beans were well executed. Chef Eiji Ota from Japan has been with OTG for more than 10 years and has honed his skills to match local palates.
Dessert was called for and the chocolate mousse was substantial rather than ethereal, with a coconut sorbet and sambuca reduction adding interest.
One Tree Grill is a slick operation, as you'd expect after 14-odd years. The service is friendly and efficient, even on a very busy night, and it's comfortable and warm.
But there is just something missing, atmosphere if you will, and that makes it less than the sum of its parts.


Our meal: $278 for a shared plate, two mains, one dessert, bread rolls, wine and beer.
Wine list: Extensive and digital, which was a new experience. There are separate lists for wine by the glass and the bottle, cocktails, beers, liqueurs - everything you can think of, and very easily managed. The glass-ceilinged cellar is also a feature.
Verdict: This is a professionally run restaurant with smart attentive service and good food, but it lacks something - heart? soul? Whatever it is, it's a shame.