She's best-known for her detective novels but British author Kate Atkinson's latest work is a change of direction, writes Linda Herrick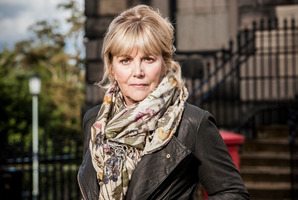 We're exactly 15 minutes into our interview when Kate Atkinson's voice, on the phone from Edinburgh, is drowned out by BONG BONG BONG. Good lord: does she live next to a church? "No, that's my mantel clock," she laughs. "It chimes on the quarter-hour. If you are watching TV at midnight, you're sitting there thinking, 'oh, shut up!"'
A clock that booms like the knell of doomsday seems just perfect, because we are talking about Atkinson's new book, Life After Life, centred around Ursula Todd, an English girl whose life stops and starts over and over again. It's about events and choices through the course of her life - death as soon as she is born, drowning, a rape, abortion, a rotten marriage or two, survival (or not) through the Blitz - paralleled by the chance to delete calamities and take another route.
Ursula is absolutely oblivious to the strangeness of this life but, as she grows older, she develops a deep sense of unease: "The terrible fear - fearful terror - that she carried around inside her," Atkinson writes. "Don't dwell on such things," Sylvie [her mother] said sharply when Ursula tried to explain. "Think sunny thoughts."
It's a book that has attracted uniformly warm reviews, which Atkinson, apparently, doesn't read. She snorts with laughter when she hears that the Times critic described it as "a sort of kiddie snuff movie".
Life After Life was recently shortlisted for the international Women's Prize for Fiction (formerly the Orange Prize), which will be announced in London on June 5, not long after her appearance here next weekend at the Auckland Writers & Readers Festival.
Ironically, she is pitted against one of her biggest fans, Hilary Mantel, who once described Atkinson's plots as "a game plan more sophisticated than Dickens".
Life After Life is a major change in direction from Atkinson's literary thrillers, four of which - Case Histories, One Good Turn, When Will There Be Good News? and Started Early, Took My Dog - featured melancholic private investigator Jackson Brodie.
The first two Brodie books were turned into a BBC television series, which have screened here, starring Jason Isaacs. The next two are in production for release this year.
The bad news, ladies, is, "Jackson is having a bit of a holiday," says Atkinson firmly. "I don't feel very Jacksony. But he is so popular. I've been doing events around the country and everyone - well, women, anyway - keep saying to me, 'are you bringing Jackson back?' But I am not really that interested in Jackson at the moment."
Despite its complex, back-and-forth structure, she says Life After Life was easier to write than her previous books.
"Detective novels are much more complicated. You constantly have to go back to save the plot. You think, 'oh no, I've got to get two people together on the street corner half an hour ago', so you are always going backwards. This was a very straightforward movement for me. It was very rhythmic: she's born, she dies. It looks much more complicated from the outside. It was just a case of starting and finishing and filling in the gaps."
Ursula is born on February 11, 1910, an event recorded 12 times in the book, to wealthy middle class parents Sylvie and Hugh, who have moved into a rambling house called Fox Corner in the English countryside. It sounds idyllic. "[The house] had everything one could ask for - a large kitchen, a drawing room with french windows on to the lawn, a pretty morning room," writes Atkinson in an early chapter.
"Fox Corner is the sort of ideal English place which maybe existed but can now only exist in our imaginations," she sighs, "a pre-war E.M. Forster place, a very middle-class family life.
"It's not something I know because I don't come from that background but it is the kind of background I would have liked to have come from. I think we'd all like to live at Fox Corner."
Atkinson, now 62, was born in York, the only child of parents who ran a surgical shop. She has described her childhood as "never happy ... solitary", and she haunted the local library, where books became her companions.
In an interview a few years ago she told me she had read all of Jean-Paul Sartre by the time she was 13. "I didn't understand it but I'd read it."
She married and divorced twice, had two daughters, and studied literature to Masters level at the University of Dundee. She moved to Edinburgh 18 years ago, where she lives alone, a status she relishes, near her now grown-up daughters, Helen and Eve, and her grandchildren.
Her first book, Behind The Scenes At The Museum, was published in 1995, winning the Whitbread Book of the Year.
Life After Life is her ninth novel. When she started thinking about writing it, the structure was in the shape of something she called "Parallel Lives", "in which the protagonist is born in different ways - a man, a woman, a god, a tree, whatever. That was the germ of the structure and I also wanted to write about the war."
Ursula lives through two World Wars in the narrative: as a child still living at home during the Great War, and then as an adult in London during the Blitz of World War II, when the city was hammered by 59 nights of continuous bombing. To say there are short chapters set in post-war 1947 is to give nothing away. Ursula may have survived the war - or she may not.
To write about the Blitz gave Atkinson the opportunity to explore what it must have been like to live in London during that merciless assault.
At one point Ursula regains consciousness after her house, divided into flats, has been destroyed.
The walls and ceilings have collapsed and she sees one of her neighbour's dresses hanging from a picture rail - "but it wasn't Lavinia Nesbitt's dress. A dress didn't have arms in it".
"What really struck me were some of the accounts of bodies being blown into the walls and become part of the wall, embedded, enmeshed," says Atkinson, who researched by reading first-hand accounts of the Blitz written by rescue service workers and survivors.
"You know, she is actually smashed into the wall.
"I was talking to some Americans a few weeks ago and I could tell that their image of the Blitz was that jolly good English spirit and I was going to say, 'you see what happens when people get hit by IEDs and suicide bombs? You see what happens when someone gets blown up?' It is really, really nasty and I think it was that visceral, filthy side of it I wanted to bring to life."
Atkinson can be rather cruel to her characters. She takes Ursula on a little pre-war detour - after a short bout of being a "secret drinker" - into marriage to a teacher called Derek Oliphant. She hardly knows him at all. Of their 1932 honeymoon, Atkinson writes: "'I think you should know that I am not inexperienced,' Derek said rather pompously as they climbed into bed together for the first time."
Derek's doctrine for a happy home - furnished drably, by him - is "a place for everything and everything in its place" but he undermines his obsession with pointless hygiene by throwing his dinners across the room, then finding fault, to a most extreme degree, with Ursula's poached eggs. "A sly smile appeared on his face..."
"I really wanted to kill him," Atkinson laughs. Instead, she retrieves Ursula from domestic violence and drops her into pre-war Germany for what was supposed to be a "gap year", and another unhealthy relationship develops: Ursula makes friends with Eva Braun and thereby gains access to Hitler.
"I became obsessed with Eva Braun," she says.
"I read so much about her, I watched all the movies" - Braun's home movies are on YouTube - "she seemed like a way in. She was the absolute face of banality. She wasn't stupid but she managed to completely ignore everything that was going on around her.
Even more mystifying was that she found Hitler incredibly attractive."
Atkinson agrees that there are a lot of unanswered questions in Life After Life that she might address one day. But then she might not.
"I am going to write another book, a companion, which is Teddy's story [Ursula's little brother] and maybe then I will fill in some of the gaps. I am starting to write that book in my head but I can't write at the moment ... I will be in New Zealand for three days, then in Australia for four. I'm about to do a big US tour, then I've got Europe...
"When the touring is over, you can shut the door and never leave the house," she says with glee. "Clomp around in your slippers. I am looking forward to it already." And she says "goodb ..." just as BONG BONG BONG booms out once more.


• Kate Atkinson will appear at the Auckland Writers & Readers Festival on May 18 and 19 at the Aotea Centre.