Herald Rating:
3/5
Address:
117 Trafalgar St, Onehunga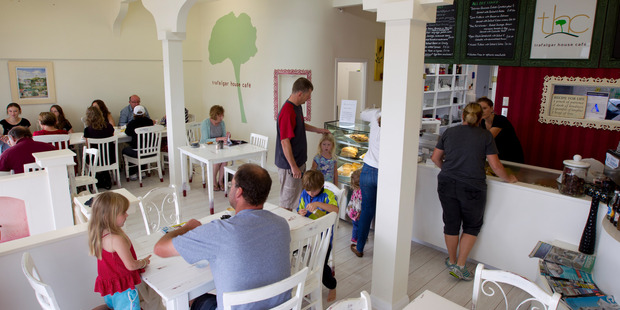 We came here because this is a newish addition to the Onehunga cafe scene, set in a building that dates from 1863, and we wanted to give it time to bed in before we checked it out.
Parking was easy on this wide suburban street that runs off the Mall but far enough away to avoid the DressSmart traffic.
We walked in and immediately thought we loved the white interior and furniture and the deep red floor length curtains, though its reasonably tight space is not used particularly well - most of the tables seat six, so they could do with a few more smaller tables for couples. The bathrooms are pretty cool, with vibrant green bamboo scenes papering the walls.
The most unusual thing on the menu was the One-Pot Wonder - baked sausage, bacon, Moroccan tomato and egg on ciabatta ($15.50).
We ordered corn fritters with salmon (good value at $16.50), a large serving complete with a bean, pea and quinoa salad and three condiments, which were of a good consistency and had a fresh tang of coriander; slightly spicy and very tasty homemade baked beans with spinach on a ciabatta ($15.50); and smoked salmon on five-grain, which came exactly as described, except with butter not cream cheese ($10.50).
Easily rectified though. The 12-year-old was thrilled with her brekky, which combined two of her favourite things - sausages and mashed potato - with caramelised onion on a quiche base ($10.50)
The coffee was not particularly memorable, but certainly drinkable.
The service was pleasant and friendly.
We recommend if you come here try to bag a seat outdoors at one of the rustic round wooden tables complete with cute curved bench seats, to watch Onehunga life go by. And check out that bathroom.
Overall we thought this is a solid local cafe with tasty food and a welcome addition to the neighbourhood.