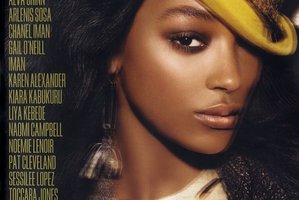 Naomi Campbell thinks "the stranger the better" when it comes to photoshoots.
The renowned supermodel has served as guest editor on beauty and fashion website stylelist.com.
In one feature, Campbell shared her modelling stories with readers of the site, describing one of the weirdest shoots she's ever been on.
"The stranger the better!" she exclaimed.
"I think one of the most bizarre shoots was in Hawaii with Herb Ritts. I was painted black from head to toe."
Campbell recently showcased blonde tresses for Vogue Brazil's February cover. The stunning star revealed her hair hue preference.
"I've done blonde on and off in my career. I loved doing the Vogue Brazil shoot because I got to become a character and I could really play with it.
"I wouldn't say a hair colour defines being fun, it is what is inside you," she said when asked if blondes do have more fun.
Campbell also shared her style and beauty secrets on the website. The 42-year-old revealed her fail-safe ways of always looking camera-ready.
"The key to staying young and beautiful is simply to eat well, take care of your body, and be happy because happiness radiates beauty," she said.
"The best advice anyone's ever given me regarding beauty was not to wear too much make-up and drink lots of water."
Campbell thinks low-key is best when it comes to sartorial choices. The beauty also revealed she takes extra care of her complexion because of the amount of globe-trotting she does.
"Since I'm constantly travelling, I always wear a hydrating mask in-flight, it helps my skin stay hydrated and reduces any puffiness," she explained.
"As far as fashion, for me, simplicity is best and I'd describe my personal style as feminine and classic."
- COVER MEDIA