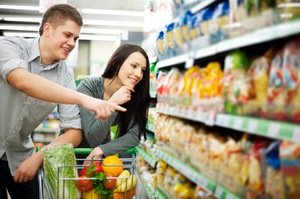 Kiwi shoppers prefer white toast to brown, butter over margarine, and vanilla ice cream over hokey pokey, a new poll shows.
Data from Countdown supermarkets shows shoppers today still opt for old-fashioned favourites.
Shoppers also preferred rolled oats over muesli, spaghetti over baked beans and crunchy peanut butter over smooth.
Bananas have been the most popular grocery item overall in the last 10 years, which the company said was not surprising as New Zealanders had the highest per capita consumption of bananas in the world.
More Kiwis preferred ready salted potato chips, which ranked ahead of salt and vinegar.
The top packet soup was onion - a key ingredient in the traditional kiwi dip made with reduced cream.
Pumpkin was the top seller among canned soups.
The favourite jam flavour was raspberry, favourite pasta shape was penne, while peaches came out top among canned fruit.
The data was released by Countdown to mark the 10 year anniversary of the Onecard customer loyalty programme, managing director Dave Chambers said.
- APNZ