Older women are challenging popular opinion on beauty and leading the charge is supermodel Carmen Dell'Orefice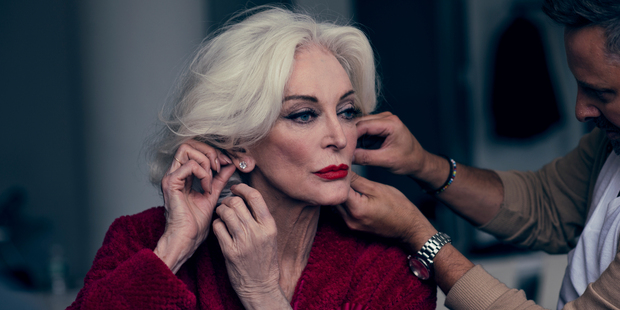 She's an 81-year-old American supermodel revered for her poise, elegance and razor-sharp cheekbones, and now Carmen Dell'Orefice is the face of sleepwear designer Peter Alexander's latest campaign.
Dell'Orefice, who scored her first Vogue cover in 1947 at the age of 15, appears in the new Mother's Day campaign for the pyjama brand, in a series of playful images shot in New York.
"I didn't meet her until she walked into the studio for the shoot,"says Alexander, "and the minute she walked in, she had such an air of glamour."
That glamour was born from working for more than 60 years with some of fashion photography's greats, including Cecil Beaton, Richard Avedon and Norman Parkinson.
Dell'Orefice arrived at the shoot fully made up, reflective of a time when models had to do their own hair and makeup.
She also had her own peculiar set of challenges.
"She was going to have a double hip replacement a couple of weeks after the shoot," explains Alexander, "but she didn't let that stop her performing in front of the camera like a younger model."
Alexander joins a growing number of designers and fashion labels choosing to feature more mature models in their shows and marketing campaigns, from 82-year-old model Jacquie Murdock appearing in a campaign last year for the fashion house Lanvin, to the photographs of stylish women aged 60-plus by Ari Seth Cohen for his popular blog Advanced Style.
In such a youth-obsessed industry as fashion, this age appreciation could be just another marketing gimmick, but it's a trend that seems to be sticking around.
Back in 2008, the Guardian declared women over 40 "the new style icons", and today you need only look at the popularity of 91-year-old fashion maven Iris Apfel with women of all ages or Karen Walker's recent eyewear campaign featuring some of Seth Cohen's favourite subjects, to see proof of fashion's softening on the age issue.
It's certainly not a permanent shift, but it's surely a step in the right direction and increasing the visibility of older women. It's something Dell'Orefice has been pushing for a while, once telling the New York Times, "We have to programme the mind of the public that age is not ugly. Age is just age."
For Alexander, featuring Dell'Orefice in his campaign wasn't necessarily a statement about age or fashion's obsession with youth. "I just loved her sense of glamour; that old, Hollywood internal glamour. I wasn't making a statement that 'old doesn't mean useless' or isn't beautiful any more. It was really that I thought that she was a beautiful woman, who happened to be 81."
- VIVA