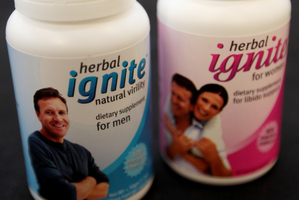 Chinese tourists are being encouraged to add a natural sex booster supplement to their souvenir shopping list on their visit to New Zealand.
The visitors are being targeted by Herbal Ignite in a marketing campaign directed at the Chinese market.
The campaign, to start next week, aims to sell the product through Chinese language brochures and advertisements in Chinese editions of visitor directory and guides.
Mandarin advertisements will also run in local Chinese newspapers and radio stations.
"New Zealand's reputation of having quality health products combined with the Chinese longstanding believe in herbal medicine will make Herbal Ignite a hit, we believe," said managing director Sam Kamani.
Herbal Ignite is an over-the-counter dietary supplement that contained "natural sex booster" herbs, horny goat weed, tribulus terrestris and avena sativa, Mr Kamani said.
A Malaysian government industry group, which is behind the global push of its own herbal aphrodisiac known as "tongkat ali", estimated the global market for aphrodisiacs to be worth about $7 billion.
Mr Kamani said marketing to Chinese visitors was a first step in getting a share of this "huge global market".
Associate Professor Elsie Ho, head of the University of Auckland School of Population Health, said it would be "quite a challenge" to get Chinese consumers to accept Herbal Ignite.
Henry Chung, a Massey University associate professor specialising in international marketing strategies, said the Chinese consumers needed to be convinced that the herbs in Herbal Ignite were better than what is used in traditional Chinese medicine.
In 2010, the company was found to have wrongfully used the Medsafe logo on its website to imply the product was a registered medicine.
It said then that it was a mistake made by an overzealous web designer who did not realise the implications of the logo's use.
No action was taken against the company.
Herbal Ignite was first launched in 1999 by former Listener editor Jenny Wheeler and the late Tim Bickerstaff, a popular sports broadcaster.