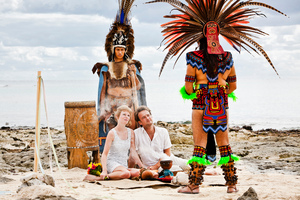 A Kiwi wedding is on the list for a serial bride and groom who are "marrying" their way around the world.
Brits Alex Pelling and Lisa Gant have exchanged vows 42 times - including on horseback in Canada, in front of Martha Stewart in New York and in a temple in Ecuador - since leaving home in July 2011.
Their Kiwi wedding in the middle of next year is likely to be the last of their unregistered trial runs, Pelling said.
"Then we are settling in Australia where we have received residency," Pelling said. "Some would say it is just a plan to actually end up in New Zealand."
The couple, who are in their early 30s, had already been contacted by some New Zealand businesses, including Good Things Cake Time cake-maker Paul Nikki and Queenstown photographer Emily Adamson.
The South Island Tourist Board is also helping the couple, and a woman has told them about New Zealand Maori Weddings, a Rotorua company specialising in traditional weddings, he said.
"With the ceremony still being far away we haven't made any solid plans or had any time to reach out. We would love to have a Maori ceremony to discover the culture and traditions. I was lucky enough to spend six months in Christchurch in 1998 and I loved it. Lisa is excited to visit."
Their latest wedding took place 10,000m above the Atlantic Ocean on an Air Tahiti Nui flight between Paris and Los Angeles.
As well as raising money for Unicef and learning about wedding traditions of the world, the couple will return to their favourite place to officially tie the knot.