Duck hunters and other 'good buggers' urged to help cancer mum's little girls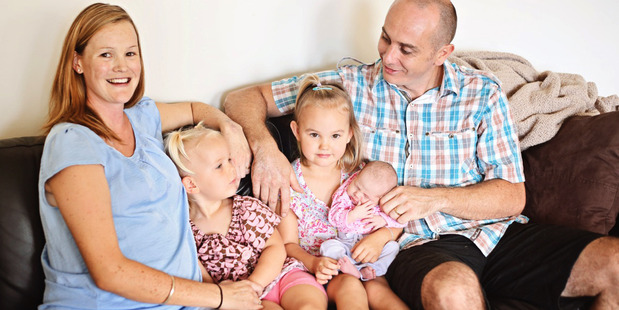 Duck hunters are being urged to dedicate some of their efforts this year to a family struggling with the loss of their mother and wife.
Megan Menlove was diagnosed with cancer the day after her third daughter was born. Six weeks later, the young mum lost her battle, leaving husband Hamish to raise Sophia, 4, Emma, 2 and Alice, 7 weeks.
Hamish has had to leave his job as a teacher to care for his girls.
Several fundraisers have been set up to help the Wanaka family. Friend Todd Soper, a keen hunter, has organised a shooting weekend, auctions on Facebook via the "Megan Menloves fight against cancer" page are held at intervals, and donations are being invited through an account on givealittle.co.nz.
Duck season got under way yesterday. Two regions - Eastern and Auckland/Waikato - have limited their seasons to four weeks because of the long dry summer.
Northland, Hawke's Bay, Taranaki and Wellington hunters can keep hunting mallard and grey duck until the end of next month.
Soper said people didn't need to be duck shooters to help the Menlove family, "just a good bugger".
Hamish Menlove is warning other mothers to get medical help the moment they suspect something may be wrong.
Still too upset to speak, though, he asked his sister Anna Perkins to tell the Herald on Sunday: "Hamish wants to make sure others are aware because he doesn't want another family to go through what he is going through."
Megan, 31, was pregnant with Alice when she experienced pains down her side and changes in her bowel patterns.
"She didn't go to the doctor because she put it down to muscular pain and was already a busy mum of two girls," Perkins said.
Like other mothers, Megan put her children first and didn't get help soon enough, Perkins said.
The Southland mum was diagnosed with liver cancer the day after Alice was born, and days later doctors discovered the primary cancer in her bowel. The liver cancer was already terminal.
Megan battled with two rounds of chemotherapy but was in hospice care soon after and died on April 12.
Perkins said the girls were doing well and had lots of family support.