Pre-loved items give a homely touch, finds Ben Crawford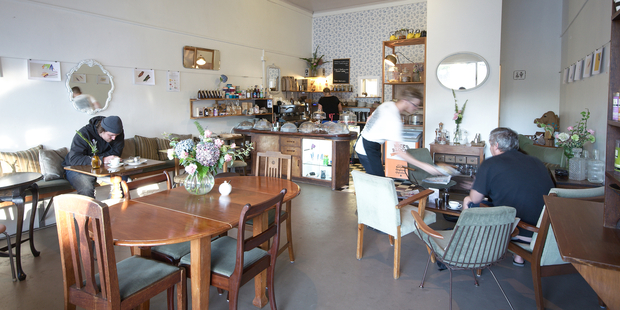 I have the ugliest feet in the world. Not that feet are ever sexy, but my toes resemble claws more than they do perfectly formed phalanges. That's just an interesting wee fact about me I guess, just like how I've never had any grandparents. Unfortunately they had all moved on before I was born but I've never known it to be any other way so there's no need to feel sorry for me.
While I've never met my parents' parents, I've met plenty of my friends' grandparents. And I don't think there's anything more homely than a Nana's home. You know that sensory overload they deliver. Delicious aromas of freshly baked cakes, cookies and muffins greeting you at the front door.
Furniture of all shapes and styles, collected over decades, scattered throughout each room, and almost every nook and cranny jammed full of keepsakes. They always feel lived in, welcoming and loved.
It's just like that in a small cafe making a pretty big impact in Mt Albert.
I stumbled upon Cosset by accident while being a typical bloke and refusing to ask for directions as I hunted out a TradeMe pick-up. After missing my turn-off yet again, I noticed a long, well-used table sitting out the front of a small cafe.
Fabric-topped stools were scattered along one side, and a long wall-mounted bench liberally covered with retro cushions lined the other. It was a perfect spot to catch the morning sun and get my bearings over a flat white.
As I walked through the wooden bi-fold front door to place my order, I felt as if I'd been transported into a living room from yesteryear. Think well-worn timber with a colour palette of faded browns and greens. An extending table had a mortgage on the middle of the room. You know the ones, they're space saving gems. An old desk complete with ink well was sitting to one side, while on my left, an eclectic mix of tables were running the length of a bench and cosy cushion ensemble. At the far end, plates of home-baked goodies competed for space with crockery, knick-knacks and hand-knitted tea cosies.
Had I just mistakenly walked into someone's home? Maybe an overly trusting Nana had left her front door open? No. But I certainly felt at home. So much so I even swallowed my navigational pride and asked the friendly barista for directions.
It got me thinking. Why do some of us naturally head to high street design stores for all our furnishings? Cosset has been able to create a homely and welcoming vibe entirely from hand selecting pre-loved items. It's quirky and full of mismatches but it works.
Perhaps we could learn a thing or two from Cosset's philosophy and curate a little bit of our own Nana cool, even if it's just an item or two.
Second-hand stores and upcyclers are popping back up all over Auckland. Here are five of my favourite treasure troves at which to spend a lazy Sunday afternoon fossicking, ranging from those full of garage sale bargains to stockists of refurbished masterpieces.


Find it
• Junk and Disorderly 18 Kawana St, Northcote
A massive warehouse filled to the brim with second-hand delights. Truck loads (literally) of new items arrive daily and are posted to their Facebook page.
• Kingsland Curiosity Shop, 467 New North Rd, Kingsland
A small but perfectly formed source of vintage furniture, maps and other curiosities.
• Pat's Polishing Ltd, 102 Sandringham Rd, Sandringham
The grass verge in front of Pat's is always overflowing with old wooden ladders and inside you'll find a store dedicated to collectables and antiques.
• The Boiler Room 486 New North Rd, Kingsland
Objects from an industrial past are brought back to life in unique, upcycled ways as modern pieces of furniture and art.
• Karakter, The Geyser Building, 100 Parnell Rd, Parnell
Karakter sources and stocks authentic and original mid-century European furniture and accessories. They're either sold as is or refurbished with modern fabrics.
• Cosset can be found at 1087 New North Rd, Mt Albert.


• Ben Crawford and sister Libby won the first series of The Block NZ. They run the creative advertising agency Libby & Ben, see libbyandben.co.nz