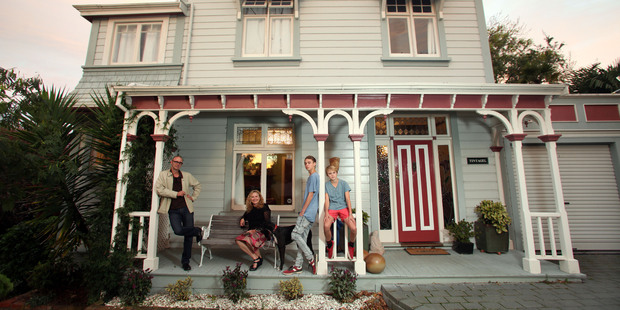 When Simon Owen and Kay McQuire moved their family from Auckland to sunny Nelson, they had no work lined up, no friends there and no home to go to. But they had a vision: to live and raise their sons Flynn, 16, and Ronan, 13, in the place they consider the ultimate Kiwi location.
Simon says when they first told family, friends and workmates they were leaving their modern North Shore home at Birkenhead Pt, which was by the sea and close to where he grew up, they were greeted by raised eyebrows.
But the couple said they simply loved Nelson. They loved holidays they'd had there, dating back to when the World of Wearable Art shows were still held there.
They were also won over by "the immediacy of nature", the "creative atmosphere", and its smallish population of about 40,000 (similar to Rotorua where Kay grew up) which meant everything is at hand. And before the move, they sussed out the schools and found great education options for their kids.
Simon is a web-designer so he became a freelancer in his field. Kay decided to re-train in Nelson as a nurse.
In other words, they did their homework and then made the leap.
"It was a bit of a brave thing to do," says Simon.
Kay says "Everyone kept asking 'have you got friends or family there'? and I'd say no, or 'are you going for work?' and I'd say no ... we're just going!"
At first they rented and rented out their Auckland home. They wanted to trial their move to make sure they had done the right thing, and figure out where they would buy a house.
After two years they knew they had made the right decision so sold their Auckland home and bought the stunning 102-year-old Tintagel House. Both sales were comparable in price, says Simon, but they got more for their money in Nelson.
In effect, they swapped their modern three-bedroom split-level home in the bush in Auckland, which was roughly a 20-minute drive from Auckland CBD, for a two-storey villa with four bedrooms, "crazy big sunrooms", a vege patch and a lovely meandering country-style garden that is double the size of what they had in Auckland, only five minutes' walk from town.
The property also includes the Tintagel Guesthouse, which they rent out and enjoy the guests they meet. The property is close to the kids' schools, a beach, walks and pretty much everything else.
Kay says it has been an exciting adventure discovering the stunning Nelson region.
Simon says their family feels a greater sense of freedom. He explains they used to raise their kids "wrapped in cotton wool a bit" because of the atmosphere they felt in Auckland. In Nelson his boys have more of "a Tom Sawyer-type life", full of adventures like meeting friends at the river to leap off rocks into swimming holes, and just hang out.
The kids can also be "more self-contained", meaning they can walk anywhere they want, everything is close.
Simon admits it took them a little while to fully settle and meet friends. The first year "felt a bit like a holiday", but Nelson is now their beloved base. Friends from out of town stay often "and now they can totally understand why we made the move".