Greig Morgan has the perfect storage solution to keep DVDs in order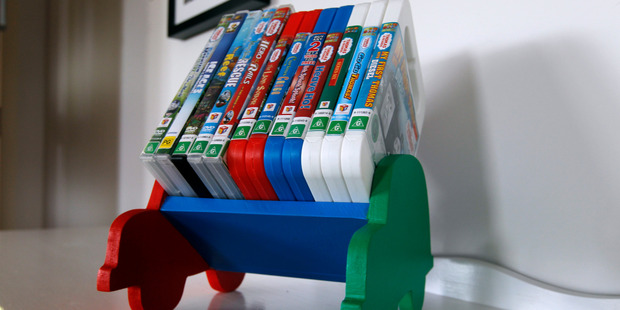 Movies can be a great way to keep the kids occupied, and there's nothing like a DVD on a rainy day. But without a sensible storage solution, those little discs and their plastic cases can be the bane of a parent's life. This cute DVD holder provides the ideal place to store movies out of the way when they're not being watched, while keeping them on display, ready for selection.


Step 1 - Sketch or trace a shape with a theme to suit your child's interests on a sheet of MDF. I chose a car for this project.
Step 2 - Use a jig saw to cut out two identical shapes, cutting on the waste side of the lines.
Step 3 - Use sandpaper to remove the jig saw cut marks and smooth the sharp edges.
Step 4 - Work out how long and high you want your holder to be by stacking your DVDs, then allowing 10mm extra for ease of placement.
Step 5 - Mark the length and height on your MDF, using a square as a guide, then cut out the two rectangular shapes on the waste side of the pencil lines. Remove saw marks and sharp edges with sandpaper.
Step 6 - Make a V shape with the two pieces by fixing the bottom edges flush together with glue and screws.
Step 7 - Mark the V shape in position between the two outer shapes, then fix to the shapes with glue and screws, counter-sinking the screws just below the surface.
Step 8 - Use a putty knife to apply enough putty to fill the screw holes. Wait until dry, then sand smooth ready for painting (for best results, follow the instructions on the putty container).


Materials
• 12mm MDF
• 32mm screws
• Wood glue
• Wood filler
• 150 grit sandpaper
• Paint
Tools
• Pencil
• Handsaw
• Tape measure
• Square
• Jigsaw
• Screw gun
• Paintbrush/speed brush
• Putty knife
• Protective gear

Tip
If using a variety of coloured paints, paint the components before fixing together.