Peter Hayden - nature history filmmaker and author, and actor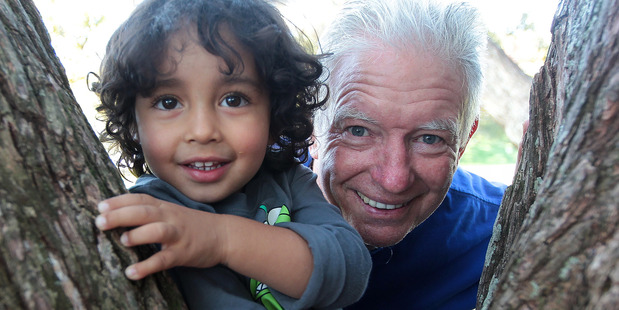 I've been privileged to go to some fabulous bits of the world, so my happy places are a mixture of the personal and the natural.
My personal happy place is under a pohutukawa tree in Western Park in Auckland with my grandson, Beau. He's two and three-quarters, and my wife and I moved up from Dunedin a couple of months ago to be closer to him.
There are quite a few pohutukawa there. The one we like, which is by the children's playground, has these enormous boughs that spread out low and long out from the central trunk. We can sit on it and hang from it, and bounce on it, and walk on it, and do all sorts of things.
Pohutukawa are a real emblem tree for me because they've had it so hard, due to possums. They are so tough, yet so vulnerable. I think about that image a lot as an actor, because you try to find out what lies beneath a character, what the subtext is.
A character is moulded by experience. The slings and arrows and comings and goings of life force us to put up protective shells, and often what we are and what we're thinking and expressing is not in the dialogue - it lies beneath.
I love thinking about what lies beneath. With so much of our landscape, we as human beings have played God. We've moved mountains and filled lakes where rivers used to be, and we've cleared a lot of land.
I'm really interested in what was there before that, so I'll look at the trees - because there's always a clump left. You'll go around the Waikato and you'll see little remnants of the kahikatea forests, you'll go to the South Island and find pockets of beech that are gradually spreading again.
I once visited the Methuselah tree near Las Vegas, which is the oldest tree in the world. It's a 4000-year-old bristle cone pine. Tane Mahuta, if he's lucky, is 2000. Methuselah doesn't look very spectacular. It grows at altitude, and is stunted and gnarled, but I like the idea of a tree that can live that long and can connect us to so much of our personal history, but also to what has happened in nature during that time.
I'm curious, and that's what drives me as a naturalist, as an actor and as a human being.
I just turned 64, but I'm as curious as I've ever been. I believe that keeps you young. I can be in any street in any city and there's usually something of interest. I always carry a notebook, because you never know.
- as told to Bronwyn Sell


• Peter Hayden's new book, An Extraordinary Land: Discoveries and Mysteries from Wild New Zealand, with photographs by his former Natural History Unit colleague Rod Morris, is released this month by Harper Collins, RRP $49.99.