Herald Rating:
4/5
Address:
20 Seaview Rd, Piha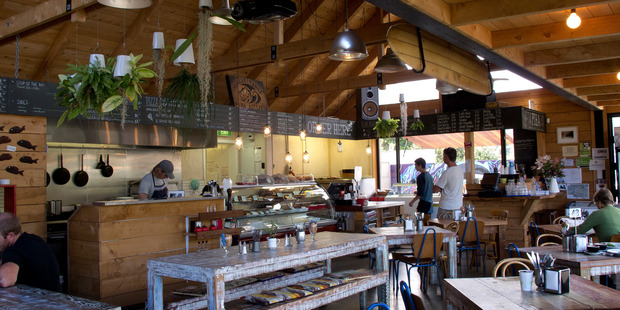 We came here because we had grumbling tummies after a stroll on the beach.
Parking was a breeze, plenty around.
We walked in and immediately thought Piha Cafe was quirky, modern and eco-friendly. The recycled timber tables, polished wooden floors and quirky lighting arrangements gave the spacious cafe an urban feel.
The menu was full of all the standard favourites - from french toast and muesli to the big breakfast. There is also a great variety of cabinet food for those who don't have the time to order off the menu.
We ordered the Kiwi fry-up ($11.50 for the half-sized version) and eggs benedict ($18.50). The fry-up had a surprising twist - it was served as a hot, chunky salad of kumara, bacon and sausage, with an egg on toast. The eggs benedict came out looking picture-perfect, the bacon was crispy and the eggs nice and runny. Both meals were full of colour and had plenty of flavour.
Filling, yet not over-the-top.
The coffee was not amazing but passable.
The service was fabulous. Very friendly and efficient.
We recommend if you come here it's worth taking time to wander the beach and work up an appetite because the food is fantastic.
Overall we thought that it was well worth the trip over the hill. Our tummies were satisfied and we'll definitely be back.