Address:
126 Symonds St, Royal Oak
Phone:
(09) 624 5678
cocorestaurant.co.nz
Cuisine: Modern Vietnamese
Rating: 8/10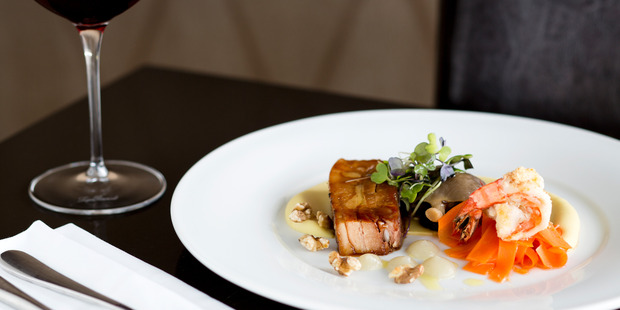 Just opened. Fine food in casual space. Royal Oak. Chefs from the esteemed Meredith's kitchen. Asian-European fusion. Eek, that last bit worried me.
Uncharted territory I'm fine with, but we all know that when good fusion goes bad it's ghastly. But, feeling intrepid, I texted my dining friend, "I'm going in, see you here soon".
The maitre d' who welcomed me, in his striped shirt and ill-fitting pants, looked an unlikely chap for the role. I discovered why soon enough.
The Coco dining room has an air of humility about its fit out. It is far from the no-expense-spared efforts we're seeing springing up all over town. This felt much more like a good honest attempt from first-time restaurateurs. The menu's dishes are neither separated into the usual starter, main and dessert categories, nor do their descriptions hint at their preparation. Options are for a la carte or four-, six- and eight-course combinations. We plumped for the six-course menu.
Up first was the squid. Prepared beautifully two ways - seared and marinated - with a papaya salad and an exquisite biscuit-flavoured pine nut paste, it was the first sign that this was going to be a happy marriage between Euro-Asian influences.
The next dish confirmed my joy. On one side of the plate a gently poached leaf of chicken breast, blanketed under a creamy light red curry sauce, and on the other a tart pea puree, pickled radish, beets and cubes of the lightest mouthfuls of chicken leg terrine. Freshly toasted hazelnuts completed the picture and we marvelled at how seamlessly ingredients from around the globe complemented each other.
Each course was delivered by our "maitre d" and just as we were marvelling at his depth of knowledge of the intricacies of each dish, he decided to come clean; "Actually, I'm the head chef and part owner of Coco but tonight my wait staff called in sick, meaning I have to be out the front." Ah ha. This is chef Daniel Nguyen's first restaurant.
He did his culinary training in New Zealand but grew up in Saigon, and it shows - in his effortless familiarity of combining the lively flavours of Vietnamese cuisine with the deeper, more serious tones of French-influenced cuisine. The ensuing course flowed beautifully. A pressed pork belly divine enough to send us back to loving this now-common cut, served on green bean and coconut cream puree, its richness offset with a pickled carrot salad and a pile of sweet oyster and shitake mushrooms, feijoa emulsion, a zingy lime dressing and toasted walnuts. Fusion at its best.
The final of the savoury dishes was salmon roasted and served on a richly spiced tamarind gravy with crunchy bitter radicchio leaves, another demonstration of Nguyen's thoughtfulness around balancing dense and light flavours, as well as textures.
The remaining two courses were dedicated to sweetening our palates. The first, poached peach with coconut sorbet, lacked flavour and the strawberry and passionfruit purees, though they looked pretty, were reminiscent of canned fruit salads. The second dessert was much more brilliantly conceived. A cooling silky panna cotta, flavoured with pandan, topped with a guava jelly, slices of gently pickled banana and a quenelle of citrusy kalamansi sorbet. Sublime and proof of the magic that this kitchen can produce.
There's a lot to love about Coco Restaurant and Wine Bar - the seamless juxtaposition of European and Asian flavours, the careful attention to detail in the dining room without it feeling pompous, the modesty of the space - but it is the food that is the standout star. It's really quite exceptional.


From the menu: Six-course menu; squid with papaya and pine nut, chicken with red curry and hazelnut, pork belly with green bean puree, salmon on tamarind, poached peach with coconut sorbet, pandan panna cotta - $90 a person (extra $55 with matching wines).
Drinks: Tight, masterful wine list.


- VIVA