If you're easily tempted by sensational edibles you'd be mad not to join the queues at Ripe Delicatessen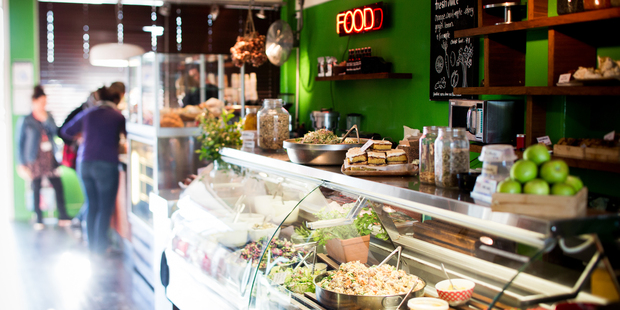 The queues out the door at Ripe Delicatessen, on Ponsonby's Richmond Rd, are testament to the quality of food that lies within. Since first opening (at smaller premises up the road) in 2002, owner Angie Redfern and her team have set the bar on what good deli food should be - innovative, extremely fresh, healthy, decadent, mouth-watering, consistent, addictive.
Ripe hums with a positive, happy energy and ever-smiling and friendly Redfern is at the heart of it.
It is little wonder the deli has won awards and so many devoted followers. Indeed, these helped her sell more than 10,000 copies of her first cookbook and now she has launched a new one, Ripe Recipes - A Fresh Batch with over 140 recipes, gorgeous photos and tips from nutritionist Nellie Pigot.
Here Ripe's team give us a look inside their remarkable world.
4.45am: The bakers arrive and start to whip up an array of irresistible treats.
Ovens go on. Lynn Colbert (head baker) makes her famous citrus and date scones and cinnamon brioche. We have been making these since the day Ripe opened 11 years ago and they still seem to have legs that run out the door as soon as a fresh batch is made. Erin puts her special touch on the gorgeous, layered, pink powder puff cake, smothered in meringue for a birthday order, and Gemma spoons marshmallow and lashings of chocolate ganache over her tea cakes. The smell of baking is already oozing out the door. The shop counter is layered with the day's catering orders.
5.45am: Our first customer of the day, Melissa "the scone lady", arrives before the doors even open to ensure she gets the first savoury scones, fresh from the oven.
6am: Our head chef, Pip Wylie, and the rest of her team (we have three bakers and 10 chefs) start to arrive. The music is pumped up and the team get stuck into preparing breakfast for our hungry customers - bacon and egg wraps, burritos, salmon hash cakes, fresh fruit and muesli with LSA (linseed, sunflower seeds and almonds) to make sure our customers are full of energy for the day. The kitchen whirrs to the sound of chopping and grating; lashings of beetroot and red cabbage are prepared for the famous Ripe raw beetroot salad and the red quinoa salad with goji berries thrown in as an immune booster.
Some of us manage to gobble down one of our healthy smoothies for breakfast with frozen berries, some coconut oil, spinach leaves and acai powder slipped in to keep us on our toes all day. There are deli cabinets to fill, more healthy salads to make, chicken breasts to cook for the chicken cordon bleu and the "made with love chicken soup", salmon to cure, lamb shanks to cook for our ragout sauce ... the list is endless and everyone has their role. Pip makes sure her crew is getting started on the long list of catering orders.
Deli manager Lisa Clark arrives to check everything is on track.
6.30am: Chris, the barista, arrives - coffee for everyone. Hooray. Altezano coffee beans are ready and waiting to be poured into the coffee machine, in preparation for the 300-plus coffees we crank out each day.
7am: We greet the sun as it comes up over Ponsonby Rd and streams in our front windows. The main doors open and customers walk in the moment the door is ajar.
The kitchen is in full swing with the usual banter and laughter; we really are a big happy family. The deli team members arrive every hour as the morning goes on to take their positions behind the counter. Now it's time to think about cutting up the chocolate brownie slice for the morning tea at Mercy Hospice (we can't seem to move them on from the gooey, decadent chocolate brownie. Maybe our new, luscious lemon slice will tempt them.)
8am: There are catering orders to box up and off they go with Tom in the Ripe delivery van, buzzing all over town. Michelle Ineson, whose exquisite illustrations are featured in both our cookbooks, draws the big, fat eggplant man up on the blackboard, along with the day's specials. Tim from Altezano Coffee pops in to pick up his food for their cafe and to check on our coffee supplies.
9am: Manager Lisa checks Ripe's website and Facebook for messages and orders of our new cookbook. Images of the delicious food on offer at the deli are placed on Facebook, along with what the take home dinner options for that day are.
Recipes are emailed off to James Russell, the editor at New Zealand Herald's Element magazine, which regularly features Ripe recipes.
The phone rings red-hot with catering inquiries or people in a hurry who want to place a coffee order before they arrive (we are now on the yQ smartphone application to speed up the preorder process).
Lisa puts together a hamper donated to the Richmond Rd School for their fundraising event and starts to plan what treats we'll create for our upcoming themed Mexican day.
10am: We are catching our breath as the busy local commuters thin out a little, refuelled with their morning coffee and daily treats. There is just enough time to change over some of the cabinets for the lunchtime offerings. The tuna, rocket and quinoa wraps are slipped into the cabinet along with Donna's delicious leek and gruyere tart, still warm from the oven.
Erin brings out the feijoa and ginger layer cake, which disappears in a flash. The feijoas were supplied by a friendly local the day before in exchange for free coffee.
Out the back, Tom checks to see if all the hungry worms are happy in our 16-worm compost bins and feeds them with all our food scraps. He bottles the worm juice for customers to put on their gardens. All we ask for is a gold coin donation, which goes to the Royal New Zealand Foundation of the Blind dogs. Barista Chris bags up the coffee grounds and pops them out front for customers to collect for their gardens.
11am: The boss, Angela, pops in about this time with her 7-month-old baby, Sam, on her hip. Sam is passed around from customers to staff while Ange meets and greets and gets a few jobs done. A few customers are on to it and sneak away from work to get the best picks for lunch before the rush starts at 11.30am.
Midday: The cabinets are groaning with all sorts of temptations, like the oh-so-naughty Rocko slice and the strawberry and custard cupcakes or the healthy, but addictive, quinoa fruit cookies.
The lunch rush has started and the deli is filled with hungry food lovers and the orders are flowing. The salmon and quinoa salad and the green queen salads are a hit, as is the dreamy cauli slaw salad with its delicious tahini miso dressing, which we think is good enough to drink.
1.30pm: The hours fly past in a blur as we serve our lunchtime regulars and meet some lovely new faces.
2pm: The "changing of the guard" happens around 2pm with the early shift team members released in the afternoon. The focus moves to our evening menus as TV dinners emerge from the kitchen - lamb shank on mash with steamed greens, shepherd's pie, cashew and honey crusted pork fillet. Good, hearty, comfort food and so easy. Just pick it up on your way home.
3pm: The kitchen crew is starting to thin out, there are still catering inquiries to check and confirm, breads, fresh seasonal produce and free-farmed meats to order for the next day from our favourite local suppliers like Il Forno, Art of Produce and Zealfresh. We restock the biodegradable packaging. There is brioche and muffin dough to prepare and, of course, cleaning to be done.
4pm: Now we see the afternoon coffee rush, the boisterous, mischievous laughter of the local high school boys on the way home, a visit from our friend, actor George Henare, with his mug from home, who tries to resist the cheesecake every single day, usually to no avail. He won't be able to resist the divine fig and ricotta cheesecake, which features in our new book.
4.30pm: It's time to close the front door and pack up for the day. Inevitably, there are still catering orders to be collected or customers popping their heads in the window to pick up prearranged dinner orders; emails and phone messages to clear for the next day's orders.
7pm: The last of the late kitchen crew lock up. Another day done as the sun sets over our urban herb garden.


• Ripe - A Fresh Batch (Beatnik Publishing: $59.99) is available at Ripe Deli 172-174 Richmond Rd, Grey Lynn, ph (09) 360 6159, at ripedeli.co.nz and at all good book stores.
- VIVA