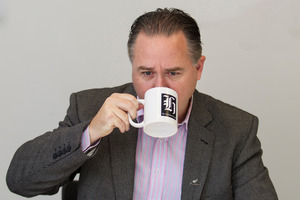 An expensive cup of coffee isn't necessarily better than a cheap brew, it all depends on the skills of the barista making it.
The Herald put five standard flat whites ranging in price to the test with a self-confessed coffee junkie as the taster.
Aleki Bon, a registered financial insurance adviser and cafe reviewer on the side, tried each coffee without knowing what they were, gave his verdict and rated it out of five.
His top-rated coffees were 40c apart in price - one was $4.20 from Me Coffee Boutique and the other was $3.80 from Southern Cafe, both in central Auckland.
Mr Bon, who has hundreds of coffee concession cards that help keep the price of his habit down, gave the $3.50 flat white from McCafe the same rating as one that's $1 more expensive from Swanson's.
The blogger, who runs cafeblog.co.nz, said the temperature of the coffee did impact on their taste - the flat whites from Hollywood and Me were bought first and so were cooler than the other three. He also chooses to drink long blacks, but liked the Me flat white so much he said he'd drink it again.
Mr Bon was surprised to discover the one from McCafe was so nice.
The president of the Auckland branch of the Hospitality Association, Kevin Schwass, said a lot of factors went into how a coffee tastes - the beans, how they're roasted, the blend and the skills of a barista.
This often wasn't determined by price. Cheaper establishments sometimes had talented baristas, Mr Schwass said. "But it's a bit like wine, there's a bit of snobbery attached to it - would a good barista go and work for a common chain? It's not going to sound too good when you go out to a nightclub later that night and tell someone where you work."
Have your say
Email newsdesk@nzherald.co.nz to say how much you've been asked to pay for a standard coffee.