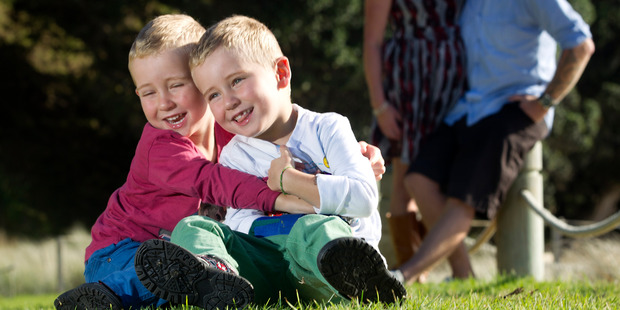 When little Lewis Railton was nearly killed by a rare and deadly stroke, his parents knew the road to recovery wouldn't be smooth.
But less than two years on, they're quitting New Zealand for Australia.
Andrew Railton and Sarah Thomas say it wasn't personal sacrifices, tens of thousands of dollars spent and the constant stress of caring for a disabled child that pushed them to breaking point.
It was what they consider a "failure" by public services to give 4-year-old Lewis his best fighting chance in early life.
They describe their decision to go as "heart-breaking".
It came despite the country rallying around them and means having to leave their family and friends behind.
But, committed to being able to one day tell their son they did everything they could for him when it mattered most, the couple say they have no choice but to leave.
Lewis, a lively identical twin with a love of superheroes, had just turned 3 when a burst blood vessel shifted his brain about 8mm, leaving him with slurred speech and paralysis on the right side of his body.
The huge bleed swelled to the size of a hockey ball and was not discovered until days after and was first thought by hospital staff to be dehydration and then meningitis.
"We nearly lost him - for four weeks, it was 50/50 whether he would survive," Ms Thomas said.
With help from brother Cohan, his community, and many Herald readers who offered donations after his rare plight was publicised, Lewis has battled through.
His parents will never know what triggered the sudden haemorrhage.
Lewis spent four weeks at Ronald McDonald House, whose staff were "incredible and supportive".
He was then treated at the Wilson Centre for Children in Takapuna. Ms Thomas said the centre provided consistent care for Lewis, offering him vital physiotherapy and occupational therapy.
But they were unhappy with the standard of speech language therapy provided and felt conditions in the hospital section of the centre were so poor they checked Lewis out early after 11 weeks.
Waitemata District Health, which runs the centre, has apologised and offered staff family centred training.
The 20 months since had been a "constant battle" with the Ministry of Health, she said.
When the family returned home to Whakatane, they were only able to access one physiotherapy and one occupational therapy session each month for Lewis.
And because they had returned in December, they were told there would be no help from the Ministry of Education for speech until the new school year started in February.
"The first nine months of a stroke victim is the most important for recovery," Ms Thomas said.
"Maybe our baby boy might come out okay as an adult ... but for us, two rehab sessions a week wasn't good enough."
Paying for care, now more than $40,000, became tougher when Ms Thomas had to take a year off work to look after Lewis.
Friends and family got stuck in and helped raise more than $10,000, getting him the therapy needed to get him walking again.
But Child Development Services in the Bay of Plenty told them that if the family paid for private physiotherapy sessions to supplement those funded publicly, access to their services would be cut off.
A Bay of Plenty District Health Board spokesperson said yesterday that it was not appropriate to comment.
Special support hours the Ministry of Education had offered for Lewis - who suffers from severe fatigue, finds it hard to concentrate and cannot open his lunchbox by himself - also fell well short of their needs. She has since told the ministry that assistance won't be needed, with the family moving to Brisbane within a few months.
Ms Thomas, who has gained Australian residency, said Lewis could gain all the care he needed through the brain injury unit at the Royal Brisbane and Women's Hospital.
Mr Railton felt a lack of publicly funded care for cases was "short-sighted", as Lewis could make a more productive contribution to society in the future if he received help now.
The couple said Lewis' courage and bravery had kept them going.
"He's just so happy and positive ... and that's what has driven us," Ms Thomas said.
"And we want him to be able to continue that attitude that he can do anything. He's amazing."